By Tatiana on August 25
5 min read
Coins & NFTs to Buy - Autumn 2022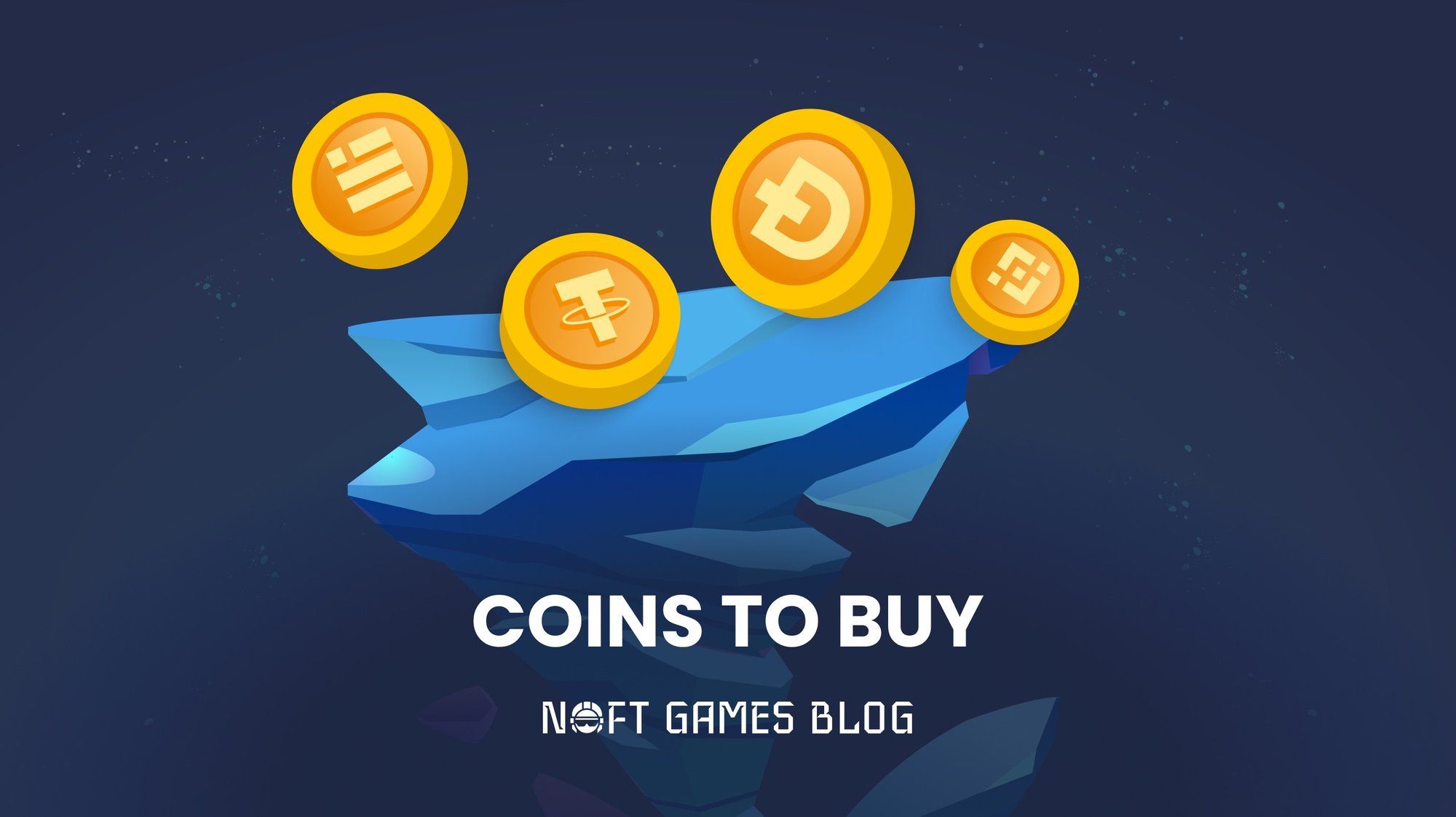 Today Noft Games are presenting you digital assets worth your attention in the coming months. Nice and unique projects to follow and maybe invest in. Always remember to do your due diligence before buying any asset! 
First off, how do you find assets to purchase?
Research the following:
✅ past performance - for a year or half, 
✅ market cap size - the bigger it is, the better it's likely to do,
✅ utility - if the project backed by the token offers any solution to existing problems out there, 
✅ popularity - if big KOLs tweet about it, if it has partnerships with reliable brands, 
✅ uniqueness  - make sure it's not other projects' copycats (especially for NFTs), 
✅ doxxed team  - the more transparent the team is, the more legit it seems to be. 
Let's go discover some eye-catching projects that are worth our attention in Autumn 2022. 
Coins to Buy
Binance Coin. BNB performance is connected to Binance Exchange, hearing some bullish news around the exchange and the overall growth of the BSC chain lets us assume that BNB will go strong. As Binance charismatic leader Changpeng Zhao (aka CZ) notes: 
Q: What is your end goal?
Me: There is no end. Innovation continues...
So does BNB. 
FLOW. The token powering the Flow blockchain has seen 400x since its ICO, it's also focused on metaverse, and as we previously discussed in our article, metaverse-related assets are going to the moon. Also consider immense partnerships with NBA, UFC, NFL, Ubisoft, Warner Music, and Instagram. 
ApeCoin. To sum up what we covered in this article concerning APE, there is no reason why it cannot become one of the top cryptocurrencies once the market gets momentum, considering the project's strong community, in-game utility, and real-world use cases. 
Celestia. The blockchain with a very unique idea, going to be released by the end of 2022. The crypto community is extremely bullish on this one as it has a solid idea and stellar team with backgrounds in Google, Ethereum, and the Cosmos ecosystem. 
Big Brand NFTs With Extreme Utility
The most winning NFL player Tom Brady will drop NFTs  opening access to the fan community, merch, and IRL events, where you can meet Tom Brady himself. Goes live September 8.   
Salesforce, a cloud solutions provider, is now developing an NFT cloud platform scheduled to launch in October 2022. The NFTs will grant access to exclusive events and loyalty program advantages
Lamborghini collaborates with NFT Pro to drop collectibles every month up till March 2023, with special gifts for collectors. 
NHL to drop NFTs that represent video fragments of the most iconic league events and great utility expanding fan experience, available as season 2022-2023 starts
Atletico Madrid is launching NFT boots for STEPN in collab with WhaleFit opening access to cool perks and a chance to win a ticket for a match. Registration starts on August 26.
Make sure to follow Noft Games blog to stay updated on more major names joining Web3 forces!
Gaming Coins
Most gaming cryptos are down to 90% but they are definitely going up as the bull run comes, which gives us a good opportunity to buy them cheap. Blockchain gaming is big, there is a lot of potential.
GALA. Crypto gaming studio Gala token, despite the lower market cap than the Top-1 Sandbox token, shows consistent trading volumes and is likely to go up. Gala delivers quality products and, considering that more games will soon be out, it's a solid one for your portfolio. 
REALM. Realm is a pretty low-cap project but with a great community behind it that can definitely hype it up. 
PYR. The coin powering Vulcan Forged gaming studio has nice tokenomics, lots of upcoming things, already recovering its price after seeing the dip, which makes us think it has the potential to grow. 
UOS. Ultra is planning to be a STEAM of crypto. It has good growth potential due to partnerships with a number of gaming publishers. 
SFUND. Seedify.fund is a crypto gaming launchpad with an NFT launchpad and seed staking coming up, big marketing, and incubator projects. With so much going on the project is to hit its all-time high, which is $10, and even higher. 
NFTs to Pay Attention To Coming Season
Sad Girls Bar. A female-based NFT project celebrating the power of sadness. Has been around for a year, but has a lot more coming soon (3D arts, first NFT bar in the Metaverse). Black and white autumn vibe NFTs + themed playlist on Spotify = must-have this fall!
Shremps. Meme NFTs that look absolutely sick! Can't boast a huge community, but they really deserve it. 
Utility Ape. A project backed by Magic Eden. Minting September 9. Will have under 5000 Apes  (and we all know that projects with Ape in it can do a lot of hype).  
Noft Games. Mint your unique Noft or buy on sale, 70% off now. We give you a gaming utility and access to our future Nofts Metaverse. We believe in what we're doing and try to do our best to make you as proud of the project as we are!
Innovative and Very Unique Upcoming NFTs to Follow (Very Early On) 
⭐️Valhalla. Skate-culture-styled NFTs with gaming utility. Partnered with Sentinel 
⭐️ Sovereign. Cool detailed art and nice utility. Check it out! 
⭐️ Cel Mates. Animated black and white cartoon-styled art. 
⭐️ 1984. Retro cartoony style NFTs. Casey Neistat starred in a promo trailer. Now, that's big. 
⭐️ Y00ts. NFT created by @frankdegods. They will be the first ones that can change what your owned NFT looks like by customizing it for you. Already have an awesome community, a mass of influencers, creators, and big names jumping in.
That's all for now! Remember, good projects rise high when the bull run comes, so DYOR, hit the balance between risk and safe assets, and diversify holdings. Wishing you to find your next 100x!
tag
NFT
Collectibles
Cryptocurrency
Art
Binance
BAYC