By Tatiana on November 19
4 min read
Elon Musk a Crypto Savior? Twitter x Elon Musk Saga Explained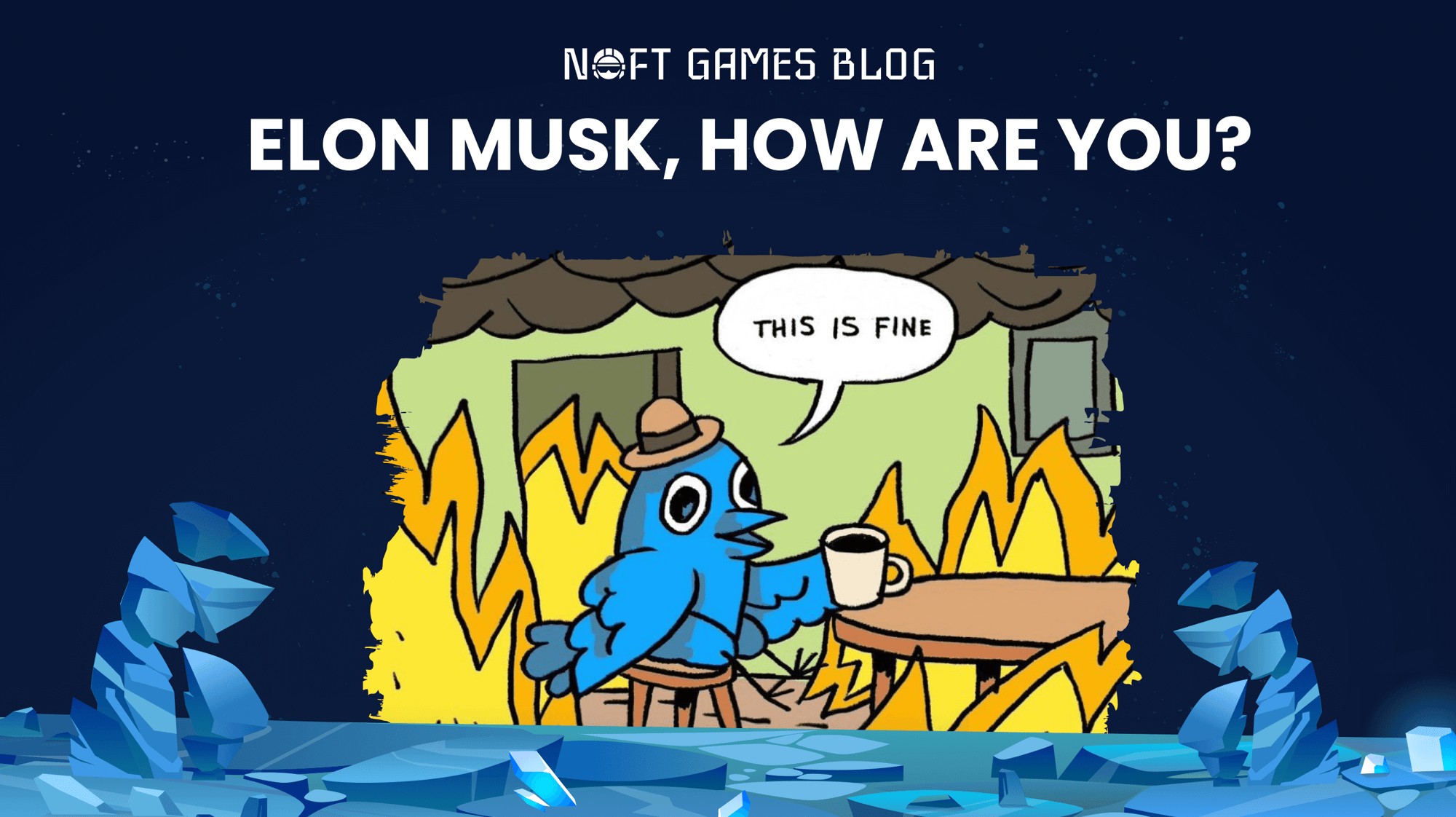 ✔️ Why the crypto world is enthusiastic about the Elon Musk Twitter acquisition? 
✔️ How Musk Twitter deal could accelerate crypto adoption? 
✔️ Did Elon Musk delete Twitter? Will Twitter shut down? 
We're totally used to Elon Musk x Crypto news. But since Musk's Twitter acquisition, instead of "How many Bitcoins does Elon Musk have?" we have, "What's Joe Biden's plan to stop Elon Musk from bringing Bitcoins to Twitter?". Or rather, "What's Joe Biden's plan to stop Elon from ruining Twitter."
Now it's always Twitter, Elon Musk, and Cryptocurrency. The Noft Games team is dissecting this trio to analyze how both Crypto and Twitter can change in the post-Elon era. 
Elon Musk's Crypto-Related Masterplan
The founder of Tesla and SpaceX has long been known for his deep affection for crypto. Take Musk's crypto tweets solely making the market go wild. Now, Elon Musk's optimism about crypto may influence our world. Here is how. 
1️⃣ Musk intends to stop crypto scams on Twitter, yet it's not known how exactly. 
2️⃣ Audience expecting Doge and crypto payments in general to be featured on the platform. DOGE price has doubled since then and remains in its 6-months-highs.
3️⃣ As Musk partnered with Binance, Changpeng Zhao (CZ) shares his excitement towards helping to incorporate crypto into the platform and is already shaping a dedicated team. 
4️⃣ Relaxing content moderation and shadow ban policies would add more visibility to crypto influencers. 
5️⃣ Twitter can very likely follow in crypto footsteps and become decentralized, open-source, and community-governed, as Musk addressed this idea several times. He also did mention "blockchain-based," yet this seems almost impossible to implement. 
6️⃣ RIght before the new boss stepped into the office, Twitter announced the testing stage for NFT Tweet Tiles
The new Twitter owner being crypto-friendly may make Twitter.com a real crypto hub apart from the platform where people occasionally troll each other. 
Musk's Twitter Takeover, Timeline
Transformations start as Elon buys Twitter. Lately, the platform has been bursting with #RIPTwitter and #GoodbyeTwitter trends. 
Let's attempt to trace how Elon is changing the rules of the game and what exactly led to this recent disastrous news ⇩
Oct 28
➡️  Musk sealed the $44 billion-dollar Twitter deal and posted a "the bird is freed" tweet.
➡️  Binance happened to have invested half a billion into the deal.
➡️  Freedom of speech & defeating bots and scams declared new management goals. 
Oct 30
➡️  Chief Executives and data engineers headed out the door 
➡️  Dogecoin surged in price.
➡️  Significant workforce (7,000 employees) reportedly fired & Tesla engineers brought in. 
Oct 31
➡️  Starlink satellite Internet usage in discussion to make Twitter great again more accessible. 
Nov 5-11
➡️ Twitter Blue $8-a-month Subscription Service rolled out.
➡️ Increasing character limits for tweets &  content monetization featuresannounced. 
➡️ New Subscription service suspended after an influx of verified fake accounts. 
➡️ Twitter peaked on active users.
Nov 15
➡️ The remote-work policy canceled; Employees criticizing management decisions laid off.
➡️  Staff got emailed on Twitter 2.0 plans. 
Nov 16
➡️  Musk shuts down Twitter Offices till Monday, November 21.
➡️  Remaining 75% quit after the "ultimatum e-mail" offering a choice: working 90 hours a week or leaving. 
Nov 17
➡️   Few of the core staff hired back. 
Popular Opinion: Elon is destroying Twitter. 
Reality Check: Most bosses would not allow staff to sabotage company values. Big companies are constantly firing, while Elon Musk is merely exposed more than anyone to mass media.
Will Elon be able to build up a new shiny thing out of ruins? He's a genius entrepreneur, so chances are he will. And then the crypto community will be expecting what was once promised. 
Closing Thoughts  
Musk's chaotic & hardcore management wreaked havoc in the media. People expect zero moderation on the website on weekends since all employees are out of the office. Some believe Twitter getting deleted is the best decision, while there's no one to properly moderate the content.
It can either be the end or a new beginning for the social media platform. Time will tell. 
"One thing is for sure: [Twitter] isn't boring!" hell yes, Mr. Musk.  
Follow the Noft Games blog to get extra crypto-related content and stay tuned to our NFT game's massive updates!  If unfortunately, Twitter goes down, you know exactly what to do: try our crypto-earning game and enjoy space-themed battles!