By Tatiana on November 18
2 min read
Gaming Mode Updates: In-game Purchases Enabled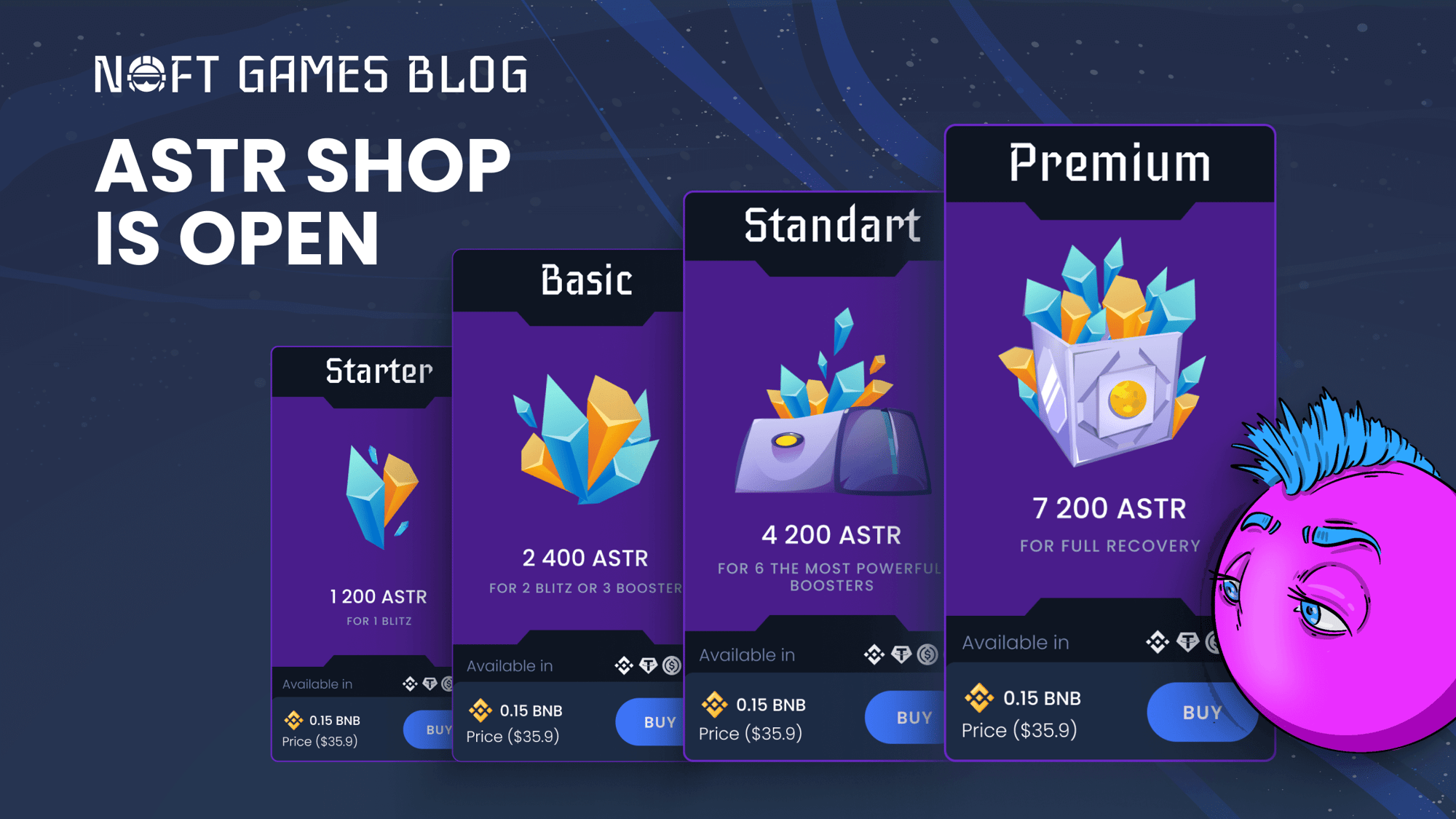 Hiya Noftscraft captains 👋 The Great Evil still has dominion over all the Nofts' lands, but we're making it all to win the Astron war and finish the Gates construction. 
The Guild discovered new ways to increase Nofts' strength and skill! Transmitting their message to you: 
Message start…
Astron is our most precious resource. With these modifications we'll start to loot more ASTR: 
🚀 The Guild will offer you Buffs in exchange for Astron 一 Buffs (we call them Injections) will power up Nofts abilities in combat. 
📣 We're now creating more Inventory & Clothing items and Improvers to help increase Nofts combat abilities and will share them soon!
Grow ASTR reserves and increase your Army's end strength:
💰 Buy Astrons with crypto (BNB, USDT, USDC, and DOGE).
⚔️ Choose your option to boost Noft abilities with Four Astron packs available:
1️⃣ Basic: 1.2k ASTR 一  Just enough to get buffed for one Blitz Battle.
2️⃣ Starter: 2.4k ASTR 一 For 2 Blitzs or 3 powerful Buffs.
3️⃣ Standard: 4.2k ASTR 一 Get 6 most forceful boosters.
4️⃣ Premium: 7.2k ASTR 一 Gives full recovery. With this pack, you're basically unstoppable! 
Setting Our Sights on Vast Space
👽 The Guild has a new technology to start Spacewalks. In the testing stage, we give you six free attempts to navigate the open space to hunt for more Astron!
The door to outer space
Find Spacewalks in the Games Mode tab 💻. The Indicator shows how many attempts you've got left. If you want more, you can get it!
Obtain extra Spacewalk attempts  
✨ Spend some ASTR to take your Noft to outer space. Just press the ➕ button and keep farming precious Astron. 
Have a fantastic crypto-space journey, Captains!  
…End of Transmission. 
Noft Games is a crypto-earning battle for Astron (ASTR) 一 our NFT game asset. 
We keep working on our blockchain game development for users to gamify their NFTs and get the best crypto gaming experience. Follow us on Twitter and Discord, and keep an eye on our blog for upcoming NFT game updates!
tag
Mechanics
GameDev
GameMechanics
Abilities