By Tatiana on September 14
4 min read
How Are You Doing, Bitcoin?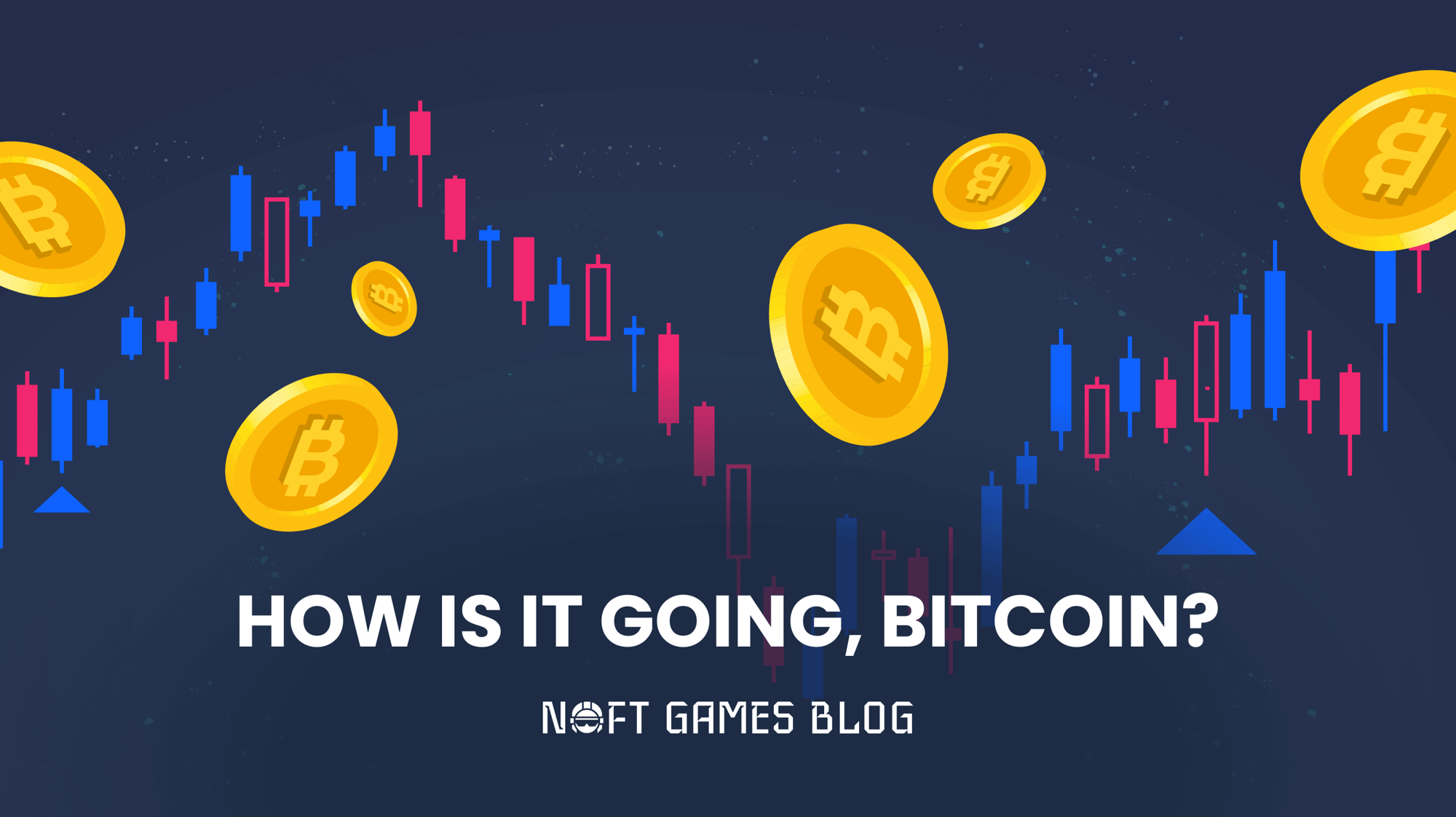 Bitcoin is a phenomenon that cannot be ignored. So Noft Games is here to quickly update you on Bitcoin's price history and cost prediction for the remainder of 2022. We'll also make a brief overview of what Bitcoin is and discuss what influences Bitcoin price. 
About Bitcoin
Bitcoin runs on the technology called blockchain. Visit our beginner-friendly guide to learn about blockchain. It's been 13 years since Bitcoin was launched and the White Paper arranged by Satoshi Nakamoto came out in 2008. So to those who believed blockchain wasn't there to stay, Bitcoin shows that the crypto trend is not going anywhere. 
Bitcoin is widely known as the first cryptocurrency in the world. The main purpose of Bitcoin was to become a digital alternative to fiat, yet, not controlled by any authority. Due to being extremely volatile, Bitcoin nowadays serves to gain and accumulate wealth rather than to pay for goods. 
Despite its high volatility, many famous brands started accepting Bitcoin payments. Tesla was among the first adopters in 2021, only to then refuse the idea. However, the announcement caused a lot of hype in the community, and the Bitcoin price went up. Tesla CEO, Elon Musk, added heat to this fire confirming via Twitter that he owns some Bitcoin. 
Bitcoin Price Highs and Lows
If we look at the whole price picture, Bitcoin's all-time lowhappened back in 2009, when one Bitcoin was worth $65.53, according toCoinMarketCap historic data. After a peak in 2017 of $20k and a decline in 2018, it made a new all-time highof $68,789 in November 2021.
And here it is in September 2022, playing with our emotions, as the price is dumping hard. Still, today's price of Bitcoin is 20,000% higher than its all-time low, and only 72% lower than the highest price in Bitcoin history. Sounds like there's hope? Well, definitely!
Bitcoin Price 2022: From $46,000 to $18,600
Early 2022:$37,000–46,000
From the beginning of 2022 until May, the Bitcoin price was ranging between $37k-46k, there and back again. Until it changed the pattern and hit $30,296 on May 9, 2022. 
May 2022: $26,350-31,000
During May, it went further down to $26k, back to $31k by the end of May. 
June-September 2022: $24,736–18,750
The next low, $20,736, caught Bitcoin on June 18, 2022. And after a few months of trying to reach 25k, we are at $18k on September 7, 2022. 
Expert Bitcoin Price Predictions: From $19K to $1M 
Trading Beast analysts suggest that the price is not moving dramatically by the end of 2022, reaching above $19,000 with the potential to surge up to $24,000.
Finder.com is more generous to forecast that Bitcoin May reach a little more than $35,000 by the end of the year. 
According to the reportsof one of the world's most respected hedge fund managers Cathie Wood, Bitcoin will have all the potential to reach $1 million a coin by 2030.
What Drives Bitcoin's Price? 
👉 Popularity
Hype in media and socials decides a lot. Elon Musk's tweets illustrate it really well. There's even a research paper measuring how tweet volumes and sentiments "predict" the market performance. 
👉 Innovation
The crypto market is rapidly expanding. Every day new projects and coins appear. They all try to offer better solutions and compete with Bitcoin.
👉 Demand and Supply
Bitcoin has a limited supply of only 21 million tokens. The scarcity of supply makes the asset more valuable over time. 
👉 Stock Markets 
Bitcoin prices somehow correlate with stocks. When the stocks are down, major investors try to sell off.
How can I buy Bitcoin?
Bitcoin is traded on all the major platforms, including top crypto exchanges like Binance, FTX, Coinbase, Kraken, Huobi, and a lot more. 
FAQ
What is Bitcoin?
Bitcoin is a digital currency that was designed to replace traditional money. 
Who created Bitcoin?
The person named Satoshi Nakamoto is the founder of Bitcoin and the father of blockchain technology. Who hides behind this pseudonym? There are many speculations to this day. 
Where can I track Bitcoin price?
You can follow the BTC/USD index on TradingView, CoinMarketCap, Investing.com, CoinGecko, and many more platforms out there.   
When will the last Bitcoin be mined?
There's only supposed to be 21 million Bitcoins in existence. Over 90% of Bitcoins are already mined. According to Coinbase, by 2140, all Bitcoins will be in circulation. It makes 21 million tokens actively traded, presumably, at high prices. 
Why is Bitcoin if falling today?
In 2022, the overall world market is down. That makes investors stay away from holding risky assets like cryptocurrency, which is also reflected in the Bitcoin value.    
So join our gaming world: enjoy Noft Games while waiting for the next bull run to come, and earn some crypto!