By Tatiana on August 23
7 min read
How to Metaverse, or Metaverse for Dummies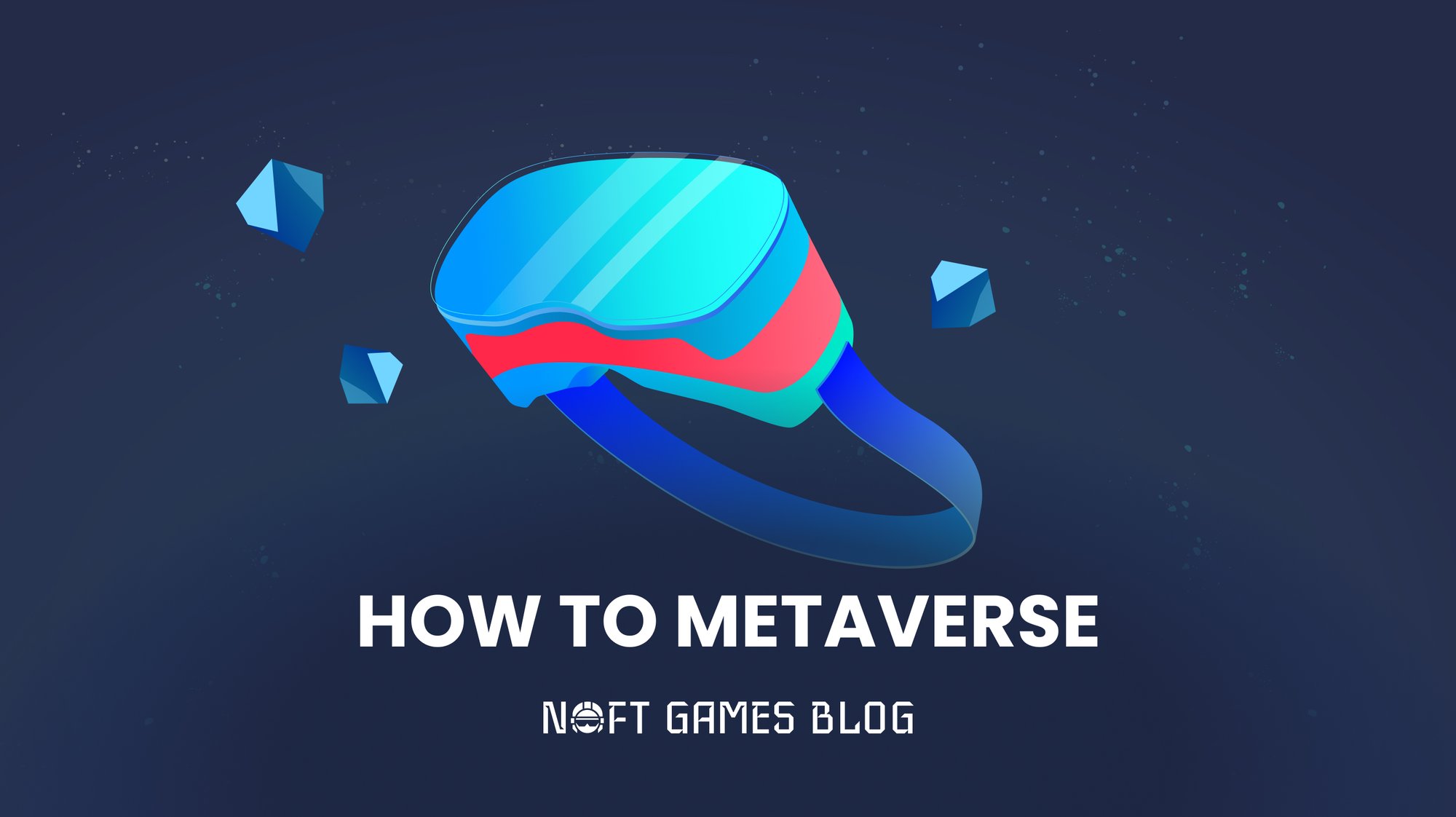 Metaverse for Dummies
Metaverse seems to be a mega-trend in the world right now. You may probably have heard this term at least once. But what is it exactly?
Noft Games is here to give you a simplified explanation so you have a clear idea of what the metaverse is, how it works, and what you can use it for. We will walk you through frequently asked questions to show why you don't want to miss out on that.  
Q&A
What Is A Metaverse Definition In Simple Words?
It may be simply described as a virtual replica of the real world. 
What is Metaverse All About?
The term Metaverse is composed of the words Meta and Verse, Meta meaning beyond, and Verse meaning universe, which together stand for the concept of a digital world that exists parallel to the real world.
In other words, it's a virtual representation of our physical world, including a version of ourselves - a digital avatar. What makes it unique is that you can real-time interact with this space using a VR headset. 
You can think of it as of a giant MMORPG 3D video game or a digital replica of our universe: our solar system represents one of the metaverse worlds intertwined with each other, planets are analogous to various applications powered by blockchain, potentially fulfilling all of your needs: entertainment, shopping, job, social activities. Plus, everyone can create their own worlds and 'planets', i.e. applications, with any utility inside of metaverse.
Universe vs Metaverse
Universe ➡️ galaxies systems:Solar System, etc. ➡️ planets: Venus, Mars, Earth, etc. with their own ecosystems
Metaverse ➡️ different worlds:Decentraland, Sandbox, etc. ➡️ multiple applications: dApps running on a blockchain
Find out more: If you want to dive in deeper, check out venture capitalist Matthew Ball's presentation of the concept.
How Does It Work?
Technically, metaverse exists as code on a computer server. 
Practically, it links different online experiences. For instance, when you install apps from AppStore or Google Play, you use one app, close it, and then open another.
Inside the Metaverse, there will be one place where all the dApps are located: so you do not exit apps but access them from one place, share items in-between different apps, play games with friends, collaborate with co-workers, and do all your everyday stuff with the help of blockchain. 
Instead of isolated websites and apps, there will be spaces, where you can be actually present.
Metaverse is using 3D software and immersive technology like VR (Virtual Reality) and AR (Augmented Reality). With the help of these, you can attend a stage show in the metaverse, see other people (well, their avatars) there, dance, and vibe out as close to real-life experience as possible.
Sounds just fantastic, right? Seems like sci-fi movies are becoming reality now!   
What Does It Have To Do With Blockchain And Web3? 
NFTs are a big deal in Metaverse. You can buy and own virtual lands, houses, clothes, items, and almost anything in the form of NFTs; sell it for a profit, and much more. 
Blockchain gives ownership of your assets through NFTs, as well as real-world value to it + autonomy and independence. 
Who Created Metaverse?
Software developers, crypto projects, tech visioners, and users create metaverse. It's not that someone created and owns it, but rather the product of technological progress. 
As for the Metaverse concept, it has been out there for a while, including sci-fi and cyberpunk-themed movies and books. Crypto x Metaverse 'love story' started back in 2017 when Decentraland and Sandbox started developing their metaverses on the blockchain.
The term hyped up last year when Facebook founder Mark Zuckerberg declared the Metaverse the next big thing in social media technology and later rebranded to Meta. This has led to many companies around the world investing in the metaverse and trying out new technologies, including Microsoft, Disney, Hyundai, Samsung, Nike, Adidas, Gucci, and lot more.
How to get Involved in the Metaverse?
✅ Investing in stocks or metaverse projects
✅ Buying a piece of land in different metaverses (to sell or create something on it)
✅ Playing metaverse games 
✅ Becoming a metaverse developer
How to Invest In Metaverse?
Buying metaverse company stocks, lands, and tokens powering them. Now is the time to stock up with NFTs or Metaverse project coins, so when Metaverse picks up you would have tradable assets to make revenue.
How to Access Metaverse?
All you need to enter metaverse spaces like Decentraland or Sandbox is a computer and reliable internet. You may also need to connect your digital wallet to then seamlessly purchase, trade, and earn crypto there. Aand you made it! 
In the future, we'll be supposed to get into the metaverse via immersive devices: VR headsets connected to PC, or PC devices (with hardware inside the headset itself), Augmented Reality glasses, and we're very likely to have 3D holographic projectors and whatnot.
What is the Best Metaverse Crypto To Buy? 
ApeCoin, SAND, and MANA conquer for being the #1 metaverse crypto, still they are all high-risk, so don't forget to do your further research before buying any crypto asset. 
Nobody knows who is going to fail and who is going to win in this metaverse race. Here are just the most popular metaverse projects for now:
ApeCoin (APE) is the to-be-native-coin of Otherside metaverse developed by BAYC team Yuga Labs, currently trading at more than $5 and gaining momentum due to strong partnerships (Gucci, Rolling Stone, Universal Music Group, Adidas, and more) and upcoming Otherside metaverse launch. 
SAND by Sandbox, a Web3 game remaining Minecraft (still in the testing phase), allows users to buy tradable lands, build games, and create in-game assets; boomed when Snoop Dog hosted music concerts in Sandbox metaverse; has partnerships with big brands, e.g. earlier we reported Playboy building MetaMansion in Sandbox.
MANA powering Decentraland -  revolves around purchasing lands that are then used for various purposes: games, concerts, etc. Top brands join Decentraland to offer their products. 
Here we'll give a few more tokens having the potential to grow:
Explore more in the CoinMarketCap Metaverse section. 
Who Owns Metaverse?
Metaverse is not going to be centralized, and, therefore, no one owns it. 
The Web3 Metaverse will be open, without borders, and truly belong not to a privileged few, but to all of humanity, where people's digital assets can truly be protected and circulate around the world.
What Is Metaverse Gaming?
Right now most of the metaverses are about games. 
Web3 adds ownership of all in-game items, P2E opportunity, utility for NFT and cryptocurrencies into traditional gaming. 
Metaverse is to bring that to a whole new level by giving a new immersive experience. 
This is exactly what Noft Games is planning to implement in the long-run - creating our own metaverse around the game!
What is Mark Zuckerberg's Metaverse? 
Meta CEO, Formerly known as Facebook, Mark Zuckerberg focuses mainly on the social side of the Metaverse rather than gaming. Zuckerberg said the metaverse can be the next level of social media development. He mentions "digital assets, digital content, different things to express themselves" and "utilities to be able to be more productive in virtual and augmented reality and across the metaverse overall." 
So instead of using Facetime for phone calls and Facebook for chatting, we're hoping soon to be using metaverse, making ourselves present in virtual reality and socializing as in real life and maybe even better. 
What Is Next?
Metaverse is still developing, in fact, it is just now starting. According to Citigroup'sJune 2022 report, the Metaverse sector has the potential to be a 13 trillion dollar market with more than 5 billion people involved by the end of the decade. 
There's a long road to go ahead and actually no one knows for sure what it's going to look like and when exactly it will become a natural course of things. Yet, it's evident that the metaverse gives a lot of opportunities for business and people. 
Covid-19 times when we had remote everything - work, education, communication - showed the importance of communication medium. Metaverse, being that potential platform is really here to stay.
Follow Noft Games blog for more metaverse news and stay all updated and prepared for what's to come!
tag
Mechanics
Blockchain
Metaverse