By Noft Games on May 23
4 min read
NFT News 5/23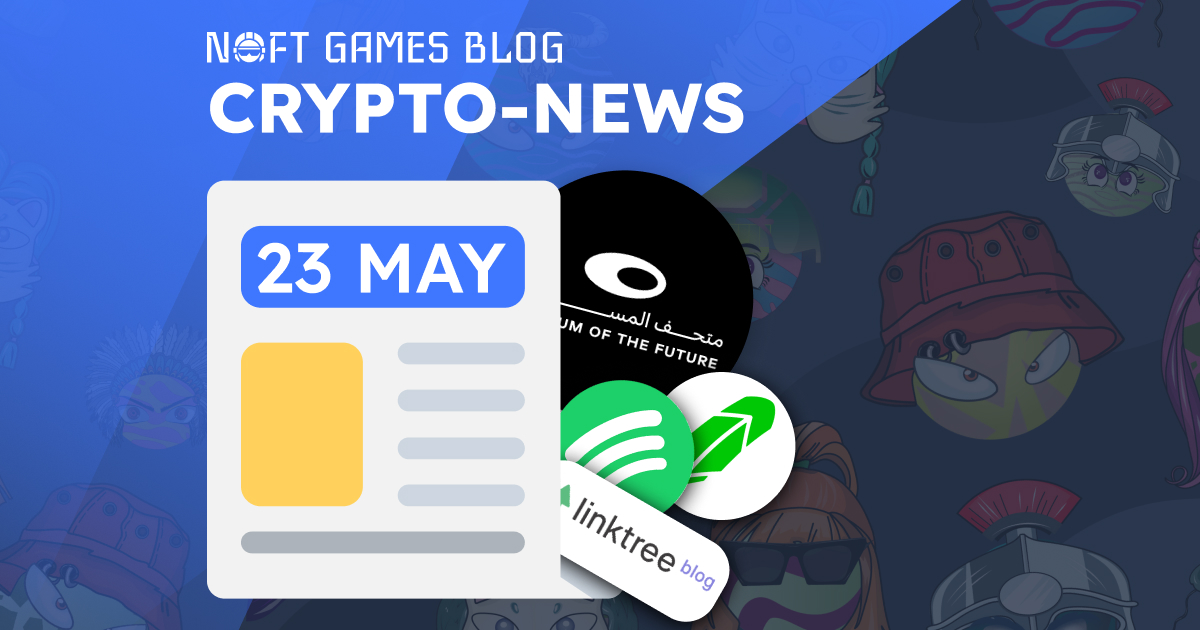 NFT world is a whole separate division of crypto, rapidly evolving and constantly surprising crypto enthusiasts. Noft Games is keeping an eye on all the mind-blowing news to share with you and keep you up to date. Here are some of the major events you cannot miss! 
1. The newly opened Museum of the Future in Dubai is preparing to launch their very first NFT collection in collaboration with Binance
The collection titled 'The Most Beautiful NFTs in the Metaverse' is promising to take NFTs to a whole new level. Say no more. Can't wait to see!
2. The rarest Bored Ape Yacht Club NFT becomes a general issue at the Singapore trial
For the first time in Asian law history, the local Supreme Court assigned NFT the status of a valuable asset and put a freeze on all operations with the item on OpenSea. As it turns, an anonymous money-lenderrefused to return lot #2162 of the BAYC collection, which acted as collateral for the loan, and placed the item on sale instead. As of now, the court halted operations with the item,so that the current owner could not sell or transfer it until the end of the trial. 
3. The social media link aggregator Linktree just revealed the new features it is launching around the NFT sector
Partnership with OpenSea will allow the platform to showcase an NFT gallery on users' Linktree page and change the profile and background images to any NFT owned - all with active links leading straight to OpenSea. There is also a feature that allows users to block access to selected links on their page that can only be unlocked by visitors who own specific NFTs,  eventually making creating exclusive content easier. 
4. Robinhood is planning to roll out its own self-custody wallet
Coinbase and MetaMask are among its competitors. The new Web3 wallet will check the main boxes: allows users to seamlessly access dapps for trading and swapping cryptocurrency and NFT marketplaces, store NFTs, and even earn rewards for holding crypto. What is interesting about that, Robinhood is resolute to deliver all these features free of network fees. The official release is scheduled for the end of the year. For now, everyone is welcome to join the waitlist for the upcoming beta test in July.
5. Music NFTs join Web3 forces as Spotify is going to explore NFT features
The famous streaming platform will cooperate with a limited group of artists to help advertise their own NFT collections directly on their Spotify profiles. Allegedly, Steve Aoki and the Wombats, long famous for their official NFT collections, are the first artists to take part. The exclusive feature will be available for a limited number of Android app users across the United States only. They'll be able to preview the NFTs right on the platform and easily access marketplaces to buy NFTs. No fees are announced to be held by the platform for the test period. 
6. Spotify is not the only giant testing NFTs
Getty Images has teamed up with Candy Digital, which is now an exclusive developer and NFT marketplace provider for the visual media company. To start with, around 500 million images from Getty Images' are planned to be tokenized, minted on Palm blockchain, and sold exclusively on Candy.
7. Ledger is to launch a multichain browser extension
Ledger Connect will allow Mobile Safari and Ledger Nano X wallet owners to effortlessly connect to Web3 apps, eliminating the need for intermediary wallets. Taking safety as a high priority, the extension will also notify users of suspicious applications and security risks. During the testing, Ledger Connect will support Ethereum and Solana protocols, with further plans to add compatibility with other blockchains and Ledger Nano S Plus wallets. 
The recent news about companies embracing digital assets clearly show how far NFTs are advancing.  When we see companies like Spotify start entertaining the idea of NFTs, we know we are going somewhere. Stay tuned for the upcoming news in the space. Meanwhile, check out our Demo Game and join battles to earn a valuable prize!