By Noft Games on January 09
3 min read
Noft Games Annual Report 2022 | Results and Achievements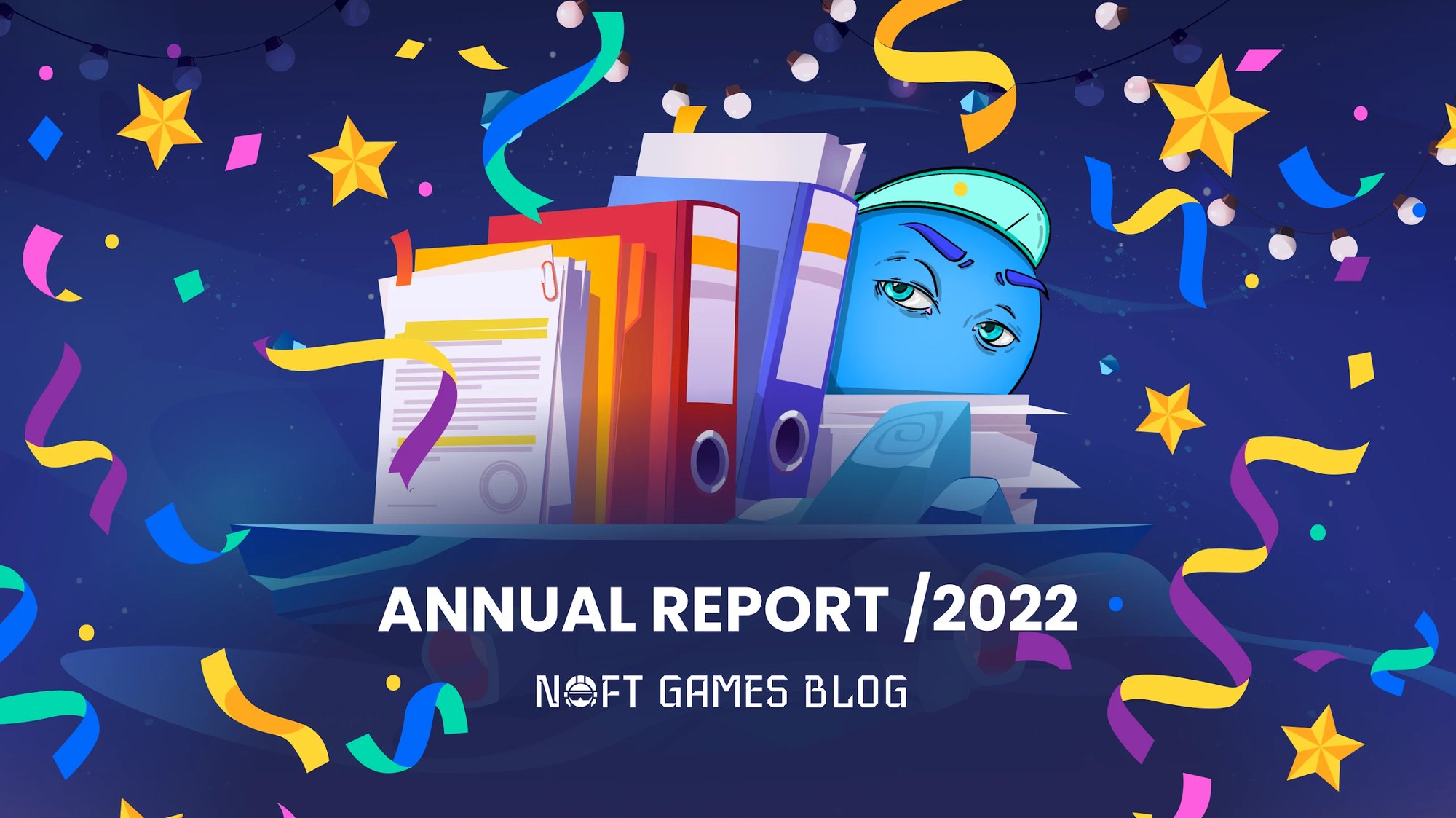 Key Takeaways
It was a roller-coaster year, but the Noft Games team has always been there for you and never stopped building. Most importantly, we have proceeded from MVP to a product working full steam and kept fine-tuning our cool NFT game to make it even cooler!
Product Updates of the Year
Over the year, we completed almost every tiny step on our Roadmap. There wasn't a single week without new releases! You're welcome to check our detailed monthly reports in a dedicated section of the blog! 
 Let's recap the major ones: 
✅  Redesigned game interface: built it around the Lobby personalized for each player;
✅  Introduced a complex Battle system with multiple on-chain and off-chain modes;
✅  Filled game broadcasts with locations and sounds;
✅  Introduced multi-currency purchases with BEP-20 tokens;
✅  Switched to instant minting instead of selling drops;
✅  Added login by email and password; 
✅  Adapted our P2E game for mobile gameplay;
✅  Introduced onboarding pop-ups to immerse users in in-game mechanics and features of our dApp;
✅ Added the Noft Games' very own in-game currency Astron (ASTR);
✅ Revealed the complete Lore of the Noft Games Universe. What happened with Nofts and what are they fighting for? Find out here!
✅ Added more project-related tech data and game mechanics tutorials into our Gitbook; 
✅ Completed the full smart contracts Audit! 
Marketing Achievements 
Year in Numbers
🔺 Started the year with <1,000 followers on Twitter and 500 on Discord. Now we boast the Nofts Family of 12k!
☂️ Held one massive Airdrop and one big Giveaway
💰 7 minor Giveaways with cash and NFT prizes 
💸 23 Giveaways in partnership with fellow NFT projects 
💬 Three AMAs
📜 Listing on 3 NFT marketplaces: Treasureland, tofuNFT, element, and 6 NFT gaming aggregators  
🔥  Co-hosted 3 Gleam giveaways with ChainPlay, BeaconGlobal, and Crypto Tech DAO
📰 Got featured in 11 media publications
🔔 Launched a referral program to play with friends and earn more crypto
Blogging and NFT-ing
🎨 Collaborated with talented artists. Dropped Warrior-Cats, NinjaBeautiesV2, Queer Party collections, and a limited one inspired by Japanese mythology. 
🌐 Created Noft Games blogs on publish0x and Medium. 
📳 Started our website blog where you can get caught up on all the hottest crypto & NFT news, read details of all game releases and get a weekly dose of crypto-educational content. 
Awards and Events 
🚀 Noft Games were included in Top NFT Games lists of 2022: Top 10 Trending NFT Games, Biggest Gainers, Top 10 Battle-Royale Games By 24h Social Score, and others.
🏆 Participated in Chainplay Champion League.
🏆 Got to the Finals of the Blockchain Games Awards 2022 by Playtoearn.net.
🎃 Held a Halloween Cup and the First Open Tournament.
Together we celebrated the 13th birthday of Bitcoin & the first NFT day and witnessed highs and falls in the crypto market. Hope our space-themed NFT game helped you to make it through the year. Thank you for being with Noft Games in 2022! Let your 2023 be much brighter 🎄
tag
Drop
GameFi
GameDev
P2E
Token
NFTart
dApp
cryptowinter