By Viara on October 24
4 min read
NOFT NFT NEWS 10/24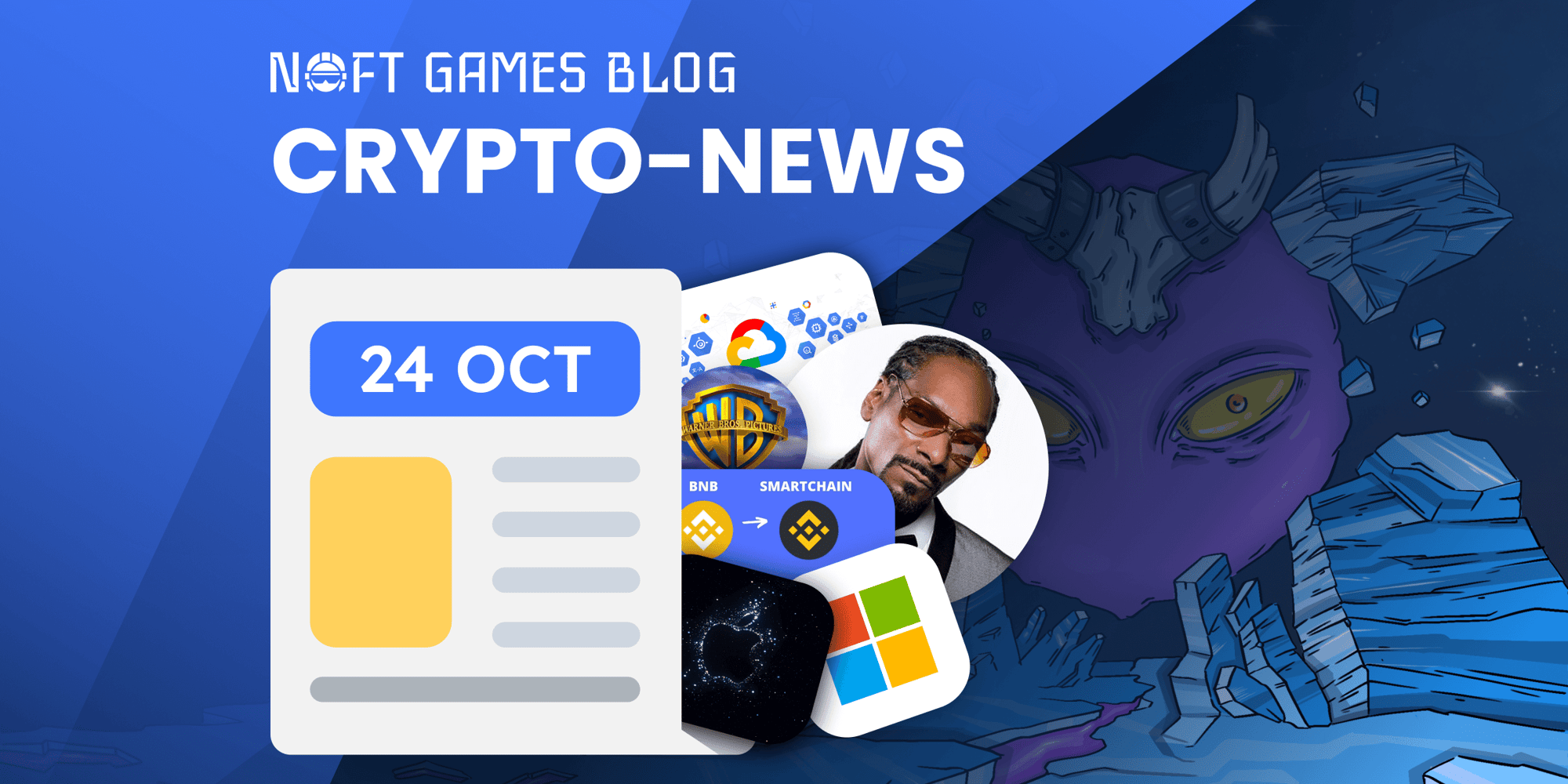 Solana revolutionizing NFTs; INTERPOL invades Meatverse; Apple, Google, and Microsoft now favor crypto; Snoop Dogg, aka. "volunteer Metaverse ambassador"; Binance's loss and gains; Lord of the Rings NFTs — all in our News Digest. 
Noft Games is as always sharing the most exciting news in the space with our community. Despite the bear market, the crypto world is not going to stop. This October is rich with new announcements and updates, so let's get right into it!
Giants in Web3
⭐️ Google will be accepting crypto payments in 2023. 
Google finally steps its foot into crypto after many years of banning it. The tech company's collaboration with Coinbase will allow payments in Bitcoin, Dogecoin, Ethereum, and seven more currencies to Google Cloud Service users. Allegedly, there's much more to come! 
⭐️  Microsoft goes decentralized-ish. 
Microsoft earlier assisted the Space and Time project to raise millions of dollars. Together with this blockchain data storage project, Microsoft is planning to marry centralized and decentralized database solutions within its Azure Cloud System.  
⭐️ And Wen Apple? 
Apple so far stays away from the trend, yet, they are rumored to be releasing VR and/or AR headsets next year. The new devices are expected to go under Reality One and Reality Pro names that clearly give Metaverse vibes. We wouldn't be surprised, though. 
Changpeng Zhao of Binance is definitely expecting more companies to eventually join the Web3 bandwagon.  "Not breaking, but as expected. Sooner or later…", - he says, reacting to News on Google x Coinbase. 
Speaking of Binance 
⭐️ Binance fell victim to a hack attack worth $100M.
Earlier this month, Binance's cross-chain bridge BNB Smart Chain was compromised by unidentified fraudsters. The Binance team was quick to react and timely stop the breach. Another positive is that hackers didn't really steal money from users; instead, new BNB tokens were created and withdrawn. 
👉  In five days after the event, BNB Smart Chain announced deploying the upgrade to the network, aimed to address vulnerabilities causing the bridge hack.
👉 Binance also performed the quarterly burn of BNB tokens to compensate for the losses. 
Crypto Adoption Paces
⭐️ MetaMask upgrades to allow direct crypto purchases with fiat. 
The Ethereum wallet provider teamed up with the payment platform Sardine. Without leaving the app,US users can now instantly top up their MetaMask wallets with more crypto using debit and credit cards. As wallet's Twitter puts it, "Sardine's payment system helps combat fraud and allows instant purchases of up to $3,000/day, $5,000/week, and $25,000/month for over 30 tokens."
⭐️ Mastercard & Paxos collab opens new opportunities to traders. 
Mastercard is a frequent guest of our digests, this time it partners with Paxos to launch a cryptocurrency trading program for banks. That move will allow financial institutions to offer crypto trading services to their customers and presumably facilitate entry into the crypto sphere. 
⭐️ BNY Mellon Bank starts to offer Bitcoin and Ethereum services.
The long-established US bank intends to manage clients' BTC and ETH holdings, integrating Chainalysis technology. So far, only two Top assets will be offered within the service, yet, the bank representatives show the willingness to add more currencies if the demand emerges. 
NFT & Metaverse News
⭐️ Warner Bros. studio to drop Lord of the Rings-themed NFTs. 
According to the official studio website, 999 collectible assets have already been minted and sold out. But there's more. NFT copies of the extended film are still available, and surprises and bonuses (BTS footage) are promised. Assets are available for Eluvio Media Wallet users. Prices range from $8 to $500 per item. 
⭐️ Snoop Dogg released a Web3-animated music video 
The rapper created his own small metaverse as he dropped the Unreal Engine-made clip for "Crip Ya Enthusiasm": the assets featured in the video appear to be tradable on the Astro Project platform. Snoop Dogg is lately known as an exceptional NFT devotee and apparently keeps believing in the market despite the bearish sentiments. 
On a scale of 1 to 10 SnoopDoggs, how bullish are you?
⭐️ INTERPOL is building its own Metaverse. 
Initially, the metaverse will be serving training purposes. However, the announcement indicates that the organization is set to bring juridical order to global metaverse inhabitants. 
⭐️ Solana roots for NFT creators. 
NFT creators raised an uproar over marketplaces not respecting artists' work after the dominant Solana-based NFT marketplace Magic Eden introduced optional creator loyalties to attract more customers. The Big Boss steps in to fix the issue. Solana NFTs host Metaplex is planning to launch a new NFT standard with creator royalties in-built into the protocol and, thus, immutable.  
⭐️ And finally, Noft Games is holding a Halloween Cup that exact night, Oct 31! Join free before the 28th of October, feel THE vibe 🎃
Should NFT platforms support creators? Is Magic Eden just the victim trying to please both creators and collectors? Join the discussions on our Twitter and Discord, and welcome to our Play-to-Earn community! Watch this space for cryptocurrency news and insights & our NFT game announcements 😉 
tag
NFTs
DOGE
News
Blockchain
MetaMask
Solana
Binance
wornerbrothers
google
apple
microsoft