By Tatiana on November 08
5 min read
NOFT NFT NEWS 11/7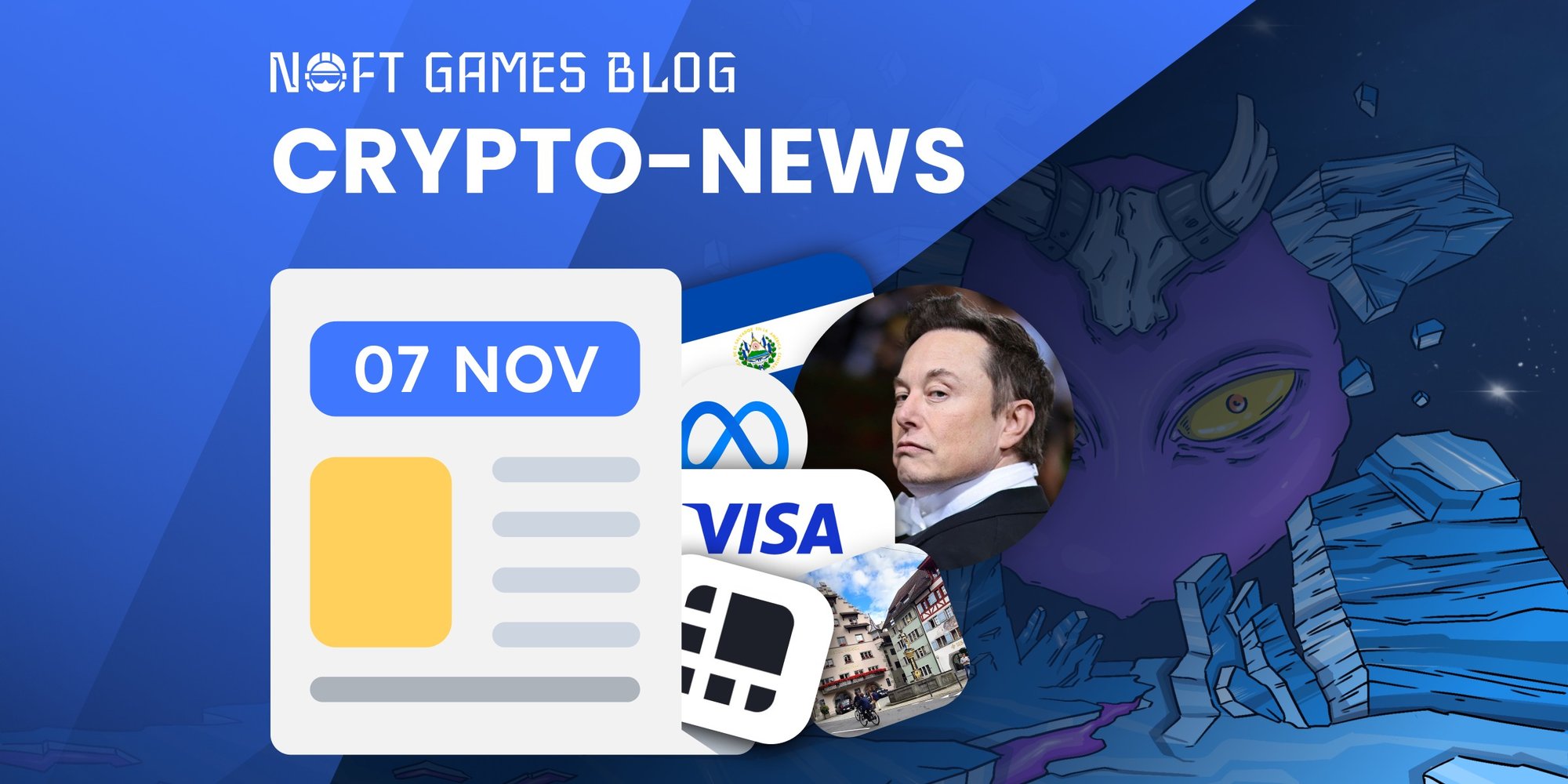 Unstoppable CZ; Elon Musk's Stunts; New Crypto Scam; New Stablecoin; China's Bitcoin bag; Visa heavily goes crypto; LATAM Countries adopting Bitcoin; and much more! 
Hello, Noft fam! We are starting another week with NFT & Crypto news digest to give you updates on what was happening in the space for the past two weeks!
Crypto Adoption Movers
👉 Are you HODLing BTC & ETH this crypto winter?China does! 
CryptoQuant, a Bitcoin analytics platform, reports that the Chinese government (known for being unwelcoming toward cryptocurrencies) moved around 200k BTC and 830k ETH to their treasury. In 2019, China's authorities seized that amount from the PlusToken scam project. No comments were made on what China's further plans for the funds are. 
👉 El Salvador (the first country to license BTC as a legal tender) cooperates with swiss Lugano to support each other's initiatives on driving Bitcoin adoption within two states and neighboring countries. 
👉 Costa Rica's government makes Bitcoin payments legitimate. Apparently, retailers and institutions will not be forced to accept crypto payments, but get a legal opportunity to do so. 
👉 First ever physical NFT vendor machine found in London. 
Placing an ATM selling multi-chain non-fungible tokens right at the heart of the UK, a collectible marketplace myNFT hopes to preach NFTs stun to Europeans. "Fiat accepted, $0 gas" - goes writing on the ATM. Prices start at 10 pounds ($11,45); no digital wallet needed. 
👉 Swiss SEBA Bank becomes the first financial institution in the world to take custody of customers' tokens and private keys from top NFT collections, including BAYC and Crypto Punks, promising exceptional security. 
👉 In collaboration with Coin Metrics and MSCI, Goldman Sachs will roll out an informational product named Datanomywith their novel crypto classification system to give comprehensive crypto knowledge to the Wall Street crowd. 
👉 Binance is ready to take over banks. 
The world's largest crypto exchange's CEO, Changpeng Zhao, wants Binance to bridge traditional finance and crypto and is ready to buy banks to make it come true. CZ spilled they have a pretty billion dollars to spend on the initiative. 
⭐ CZ also noted during the interview that "It [crypto] has been the most stable thing, technology-wise, in this turmoil situation." We may eventually witness blockchain saving the world's economy. Go CZ!  
Crypto Industry News
👉  Binance will power Ledger wallets to facilitate buying crypto.
Binance teams up with major players in the crypto wallet industry to make digital assets more accessible to the public. Binance bringsLedger wallet holders the benefit of buying around 100 cryptocurrencies with fiat directly from their Ledger Live app, canceling friction with moving funds there and back again.
👉 BlockchainCom launches a Visa Card with cryptocurrency cashback.
A new free card will allow users to use cryptocurrencies or fiat for daily payments with zero fees and get a 1% crypto cashback with every purchase.
👉 Visa may soon launch a crypto wallet. 
Per the trademark application filed by Visa on October 22, 2022, the company considers creating a cryptocurrency & NFT wallet for customers. New digital assets, NFTs, and a metaverse may also be launched.
👉 Solana plans to launch a stablecoin. 
Euro Coin, a new stablecoin by Solana backed by EURO, will be launched early next year along with their cross-chain protocol Circle. 
👉 Google Cloud is now Solana Blockchain legit validator. 
Following Google's partnership with Coinbase, the company officially announced launching Solana nodes. Google Cloud also noted that they're willing to addnew features for Solana developers and node runners. SOL rose 13% and reached $38.55 on the news. 
Musk, Doge & Twitter, Saga 
📌 Dogecoin made a 2x in a week. 
Elon Musk'sTwitter acquisition news boosted DOGE price up to 100%. The coin has finally surpassed the $0.1 mark for the first time in seven months. Dogecoin's capitalization exceeded $15 billion, making it the eighth-largest cryptocurrency in the world, overtaking Cardano and Solana.
📌 Twitter will enable NFT trading.
The company is testing the feature of buying and selling NFTs right through tweets with select users in cooperation with top NFT marketplaces.
📌 Binance is forming a dedicated team to help Musk revolutionize the platform using blockchain technology. It's worth noting that Binance now holds a tiny percent of Twitter shares (around 0.02%) after investing half a billion dollars in Musk's deal. 
📌 The MASK token trends after Musk's Twitter takeover, jumping from $1 to $5.83. There is no update yet on how it connects to Musk or Twitter, apart from suspiciously similar sounding. 
Best NFT News 
👉 Meta steps on a warpath and announces NFT-related tools to Instagram. Itpartners with Polygon to offer NFT creating and trading in-app. ETA not yet revealed. 
👉 Famous musician Pharrel Williams is assigned a Chief Brand Officer at Doodles NFT project. 
👉 New Era of NFTs may be coming: Beeple, a top-selling NFT artist, may allegedly move from Ethereum to Solana to start creating immersive 3D NFTs.
❗️❗️ Scam alert: Unidentified scammer addressed as a "Monkey Drainer" goes wild stealing hyped NFTs from popular collections. According to reports, holders give the attacker access to tokens through completing fake NFT minting transactions or connecting their wallets to claim suspicious airdrops. 
Be careful out there: check URLs, do not fall for extremely generous airdrop announcements, and always double-check transactions you're signing in your wallet. 
Visit our anti-scam guide to find some security tips. 
Stay tuned to our Noft blog to get a weekly dose of crypto & NFT content. Drop by our Twitter and Discord to communicate with our welcoming NFT-gaming community!
tag
NFTs
Bitcoin
News
Blockchain
Solana
Binance
BAYC
CryptoPunk
Crypto Scams
google
Twitter
Elon Musk
CZ
DOGE
Meta