By Tatiana on December 20
4 min read
NOFT NFT NEWS 12/19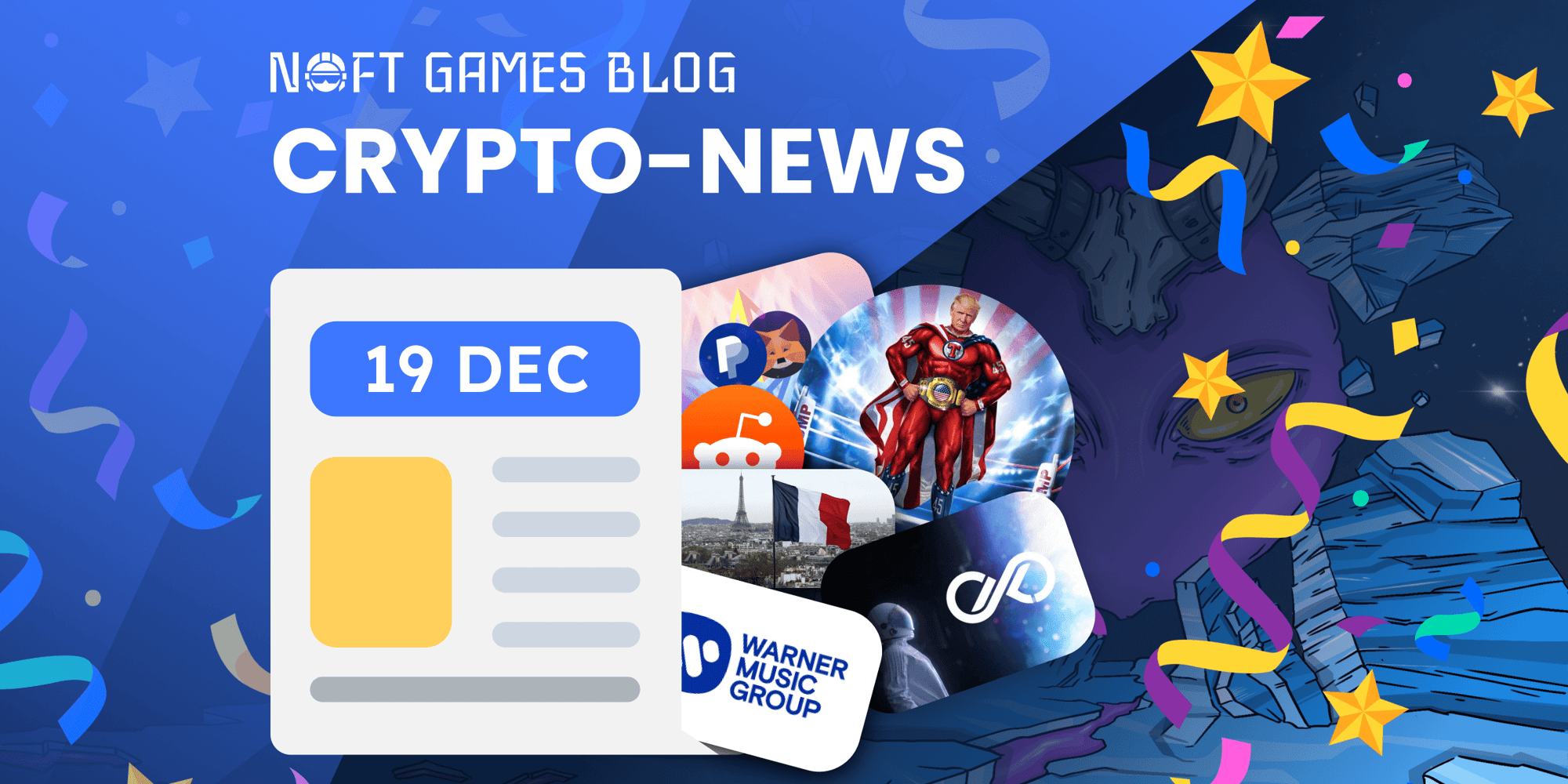 Aliens exposed to NFTs; Trump's collectibles; NFT music player coming; aggressive crypto regulations; another MetaMask partnership; and more!
Welcome to our pre-Christmas NFT & crypto news digest! Good things are happening still in our space regardless of being in the bear market. Let's discuss some bullish and important news, what they mean for crypto, and close the year with a small portion of positive vibes! 
Game Changers 
✳️ MetaMask users can now purchase crypto with PayPal
US citizens can now buy Ethereum with PayPal in MetaMask app. The partnership's goal is to lower the entry barriers for more people and onboard new customers to Web3. It's not the first move for a well-known payment app into the crypto debris, though. 
✳️ NFTs roaming the space
NFT payloads were transmitted to International Space Station. Dreambound Orbital collaborated with top crypto projects, including Brave, Magic Eden, Civic, and more, to make this happen. Numerous NFT dogs, apes, and lions are now being broadcasted to a vast space as we're sitting in the kitchen sipping coffee. How cool is that? 
✳️ Hedera team is participating in the Davos World Economic Forum 2023 to talk about billions of transactions they're planning to process on the network with a carbon-negative effect. Nice angle to present crypto to a wider public after the FTX collapse hype, just for a change.  
FTX Collapse aftermath 
✳️  France backs off crypto regulations
Following a global trend of tightening cryptocurrency law after the FTX case, France may be revisiting its simplified regulatory framework for crypto companies. Formerly one of the most pro-crypto countries in Europe may cancel the previous amendment allowing crypto businesses to operate without a full license.
✳️  One more exchange compromised 
Another exchange makes the headlines as Solana-based DeFi exchange Raydium gets hacked. Reportedly, $2 million worth of Prism, USDC, wSOL, and some others were drained as a result. The team is currently investigating the issue. 
✳️ Mass Binance withdrawals 
Binance faced a 1 billion-worth outflow in a single day. CZ entitled that happenstance a perfect "stress test," and so far, a smooth one. Binance was fully able to maintain and fulfill all the withdrawals. Will it help build confidence back in exchanges and the crypto space in general?
Make NFTs great again
✳️ Trump NFTs are real
Donald Trump's 45k-piece collection launched last Friday at $100 each and got sold out immediately. Collectible cards with photoshopped Trump depicting him as a spaceman, cowboy-superman, and pixel-man come with utility, though. Owners now participate in a lottery to win meeting Trump IRL & online and some more amusements. 
As it turns out, the idea of launching collectibles does not belong to Trump himself, but he was paid for his branding by a company called NFT INT. Secondary market prices go bonkers and reach $100,000B apiece. The floor price stays somewhere around $300.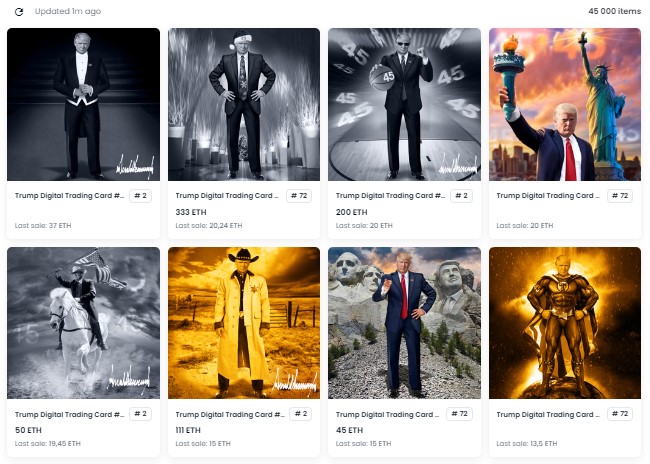 Source: OpenSea
✳️ Reddit users created 255,000 Polygon-based NFT avatars in a day, on December 3, setting a new minting record. Since the launch, 5 million digital avatars were created at a $10-100 minting price on the platform. Some of the most expensive pieces are listed on OpenSea for more than $300 per NFT. 
✳️ NFT space will have the nicest soundtracks
Warner Music Group is planning to launch an NFT music streaming platform with the help of Polygon. The big music industry player will let its artists release tracks directly to the platform and actually will have a legit player for NFT music. 
Is Bitcoin dead? Again
✳️  The Bitcoin price drops below $17k as Feds report to be raising the interest rate.Visit our Bitcoin Guide for insights on what influences the BTC price. The announcement also injured the stock market, yet Bitcoin is raising more talks than anything. According to 99 Bitcoins, that was exactly the 467th time the king of crypto was buried since it was launched.  And still, we're here.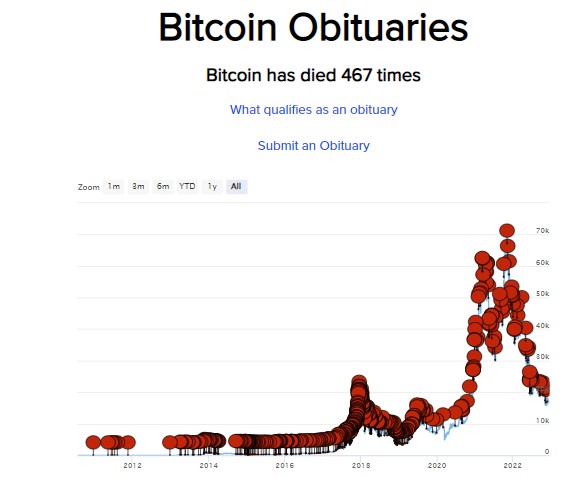 Source: 99Bitcoins.com
🎄 The whole year around, Noft Games shared stories that give you hope and a nice long-term view of the cryptocurrency space. We're assured that there are more great things to come in upcoming years for blockchain. So stick with us, and let's drive together!  
tag
NFT
News
MetaMask
Binance
Reddit
CZ
Crypto Adoption