By Tatiana on July 21
3 min read
NOFT NFT NEWS 7/21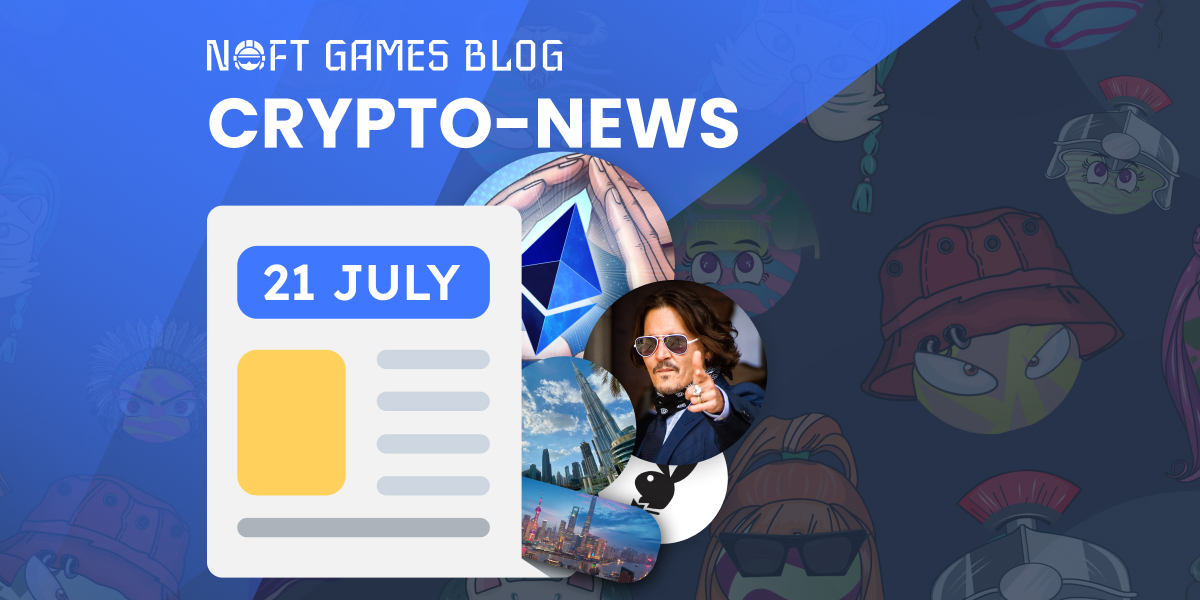 Hello and welcome to our regular NFT news blog post where the Noft Games team briefs you about the most prominent NFT & metaverse news. Today's headlines are devoted to the massively bullish crypto news we need and deserve these days. Let's go right into it!
Headed to a Whole New Level
⭐️Ethereum Merge date has been set for September 19; that's when Proof-of-Work is going to be switched to Proof-of-Stake. The crypto community expects Ethereum prices to react pretty much positively to the news. 
Read more about Ethereum Merge here. 
Global Brands and Governments Embracing Crypto
⭐️ Playboy joins the metaverse. The biggest adult entertainment brand is partnering with Sandbox to build the MetaMansion. Playboy will likely drop NFT collectibles and host games and events within the new mansion. Big brand names involved in the (space) could definitely give a boost to mass metaverse adoption.
⭐️Reddit launches collectible NFT avatars on Polygon. Soon users will be able to select a collectible, buy it with a credit card, and set that as their avatar. Then, Reddit is going to partner with artists with a 50/50 revenue share on every transaction sale, essentially introducing a new model for collaboration with artists. 
⭐️ Shanghai released a five-year development plan that includes metaverse. The city government is investing millions of dollars to explore the potential of blockchain and major Web3 technologies. Hopefully, an investment like this is going to encourage other companies toying with the idea to seriously look into this and surprise us all.
⭐️ Similarly, Dubai also introduced the official government Metaverse strategy aiming to increase the number of blockchain and metaverse companies 5x in five years. Not only that, the new policy will help introduce 40,000 virtual jobs to bring billions of dollars to the country's economy. Now, this is a sign of a highly progressive country. 
These are the countries we will look out for and watch how it goes. 
Striking NFT Use Cases 
⭐️  The High Court of England and Wales has granted permission to serve court documents using NFT. This innovation allows for reaching anonymous wallet owners and suing them despite their hidden personalities. This seems like a breakthrough in the legal space. 
⭐️ VSR, a Lamborghini-supported GT team, will utilize NFTs to certify racing car parts. 
So satisfying to see the true application of NFTs tracking one-of-a-kind parts is gaining momentum.  
⭐️Dequency, a new music licensing platform, is officially up and running. The project allows for eliminating the middlemen, increasing the speed of payments, and cutting costs - all using a carbon-negative blockchain Algorand.  That is a game changer for the industry as it gives opportunities for musicians to control their music and make more money that they deserve for their art. 
⭐️And lastly, here is the most positive NFT use case ever. Johnny Depp sold his NFT art collection for $800,000 and donated all of it to children's hospitals. 
That is it for today. With every news update, we see that NFTs are far too potent to be ignored. Mass adoption starts creeping in and we're still early on in this amazing journey that is to come. Follow for more. Noft Games will keep you updated! 
tag
Eth
News
Blockchain
Cryptocurrency
Multichain