By Tatiana on August 01
4 min read
NOFT NFT NEWS 8/1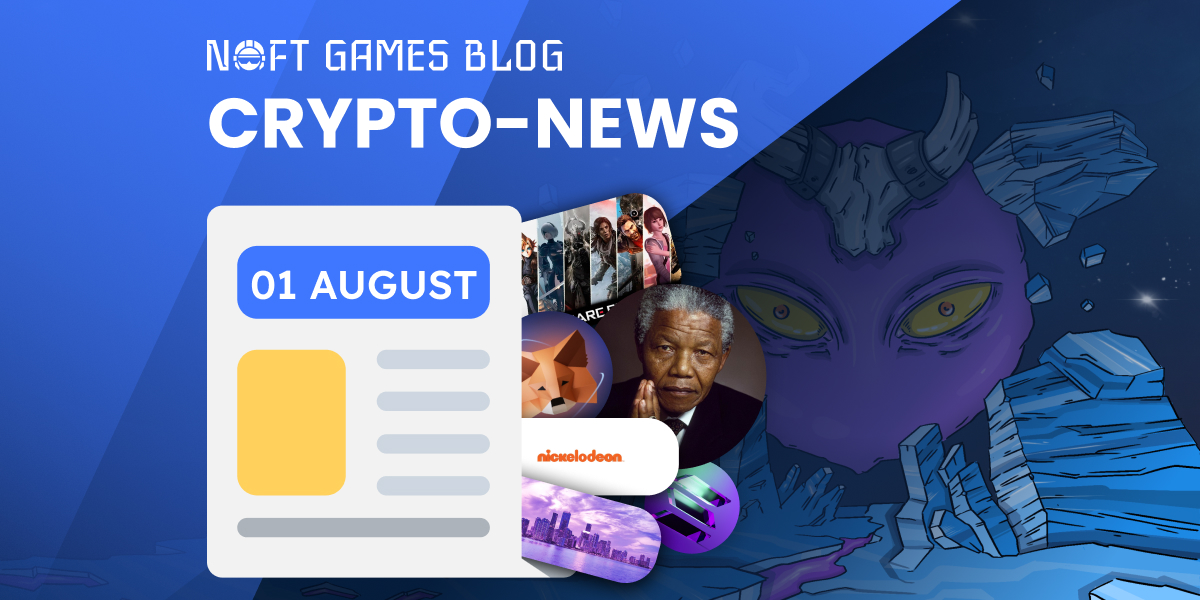 Miami bets big on NFT, Square Enix enters the Polkadot system, Solana's IRL store, metaverse courses from Ivy League university, Wen Merge, and more.
Hello Noftians! Hope you had a nice little week. Let's start Monday with the latest news summary brought to you by Noft Games. As always, we cover institutional adoptions, how crypto gets more and more into our daily lives and moves across all markets.
NFT Use Cases We Deserve
⚡️ Binance partners with an Italian soccer club to offer NFT tickets into the 2022-2023 season. 
Società Sportiva Lazio club is dipping their toes into blockchain to ensure secure ticketing procedures. NFT tickets issued by Binance Launchpad will also give 10% off the price, as well as a chance to win fan tokens and a pass for special events. 
⚡️ Miami is officially launching an NFT collection. 
A major metropolitan area in the U.S. is teaming up with Mastercard, Time Magazine, and Salesforce to launch 5000 NFT pieces on the Ethereum blockchain. NFTs will throw owners a lot of perks, such as access to special events, places, and many more. The whole city making an NFT collection - how crazy is that?
⚡️ Condense brings live streaming to the metaverse.
The brand new company takes up a challenge to transport real-life shows and performances into the metaverse. The company is equipped with all the cutting-edge tools to handle the technical complexities of the process. With new technology like this, content creation is promising to level up dramatically soon. 
Level-Up 
⚡️ The Ethereum Merge camp confirmed the final testnet merge date. 
According to the Ethereum Blog, the Goerly testnet has been roughly scheduled for August 4. To recap, two testnets have already undergone merges lately, and this is the last one before the actual Ethereum mainnet merge. So all eyes of the crypto community are on it!
⚡️ MetaMask is turning up the security.
The famous software wallet was quick to respond to a wave of 'wallet drainer' attacks and rolled out an interface update. It will enable users to detect scams and avoid losing funds. From now on, MetaMask will show warning messages before granting SetApprovalForAll that hackers use to get access to easily withdraw all the tokens. Stay safe there and be careful of what you're signing!
⚡️ Solana sets up a physical retail store in the heart of New York City.
The company's main goal by doing this is to educate the population. Visitors can get tutorials and wallet onboarding help, earn rewards, and, of course, shop merch. Still,Solana Spaces is here to let people know about the incredible stuff they and the whole crypto world are doing with the technology.   
Massive Names Entering Web3
⚡️ Square Enix announced to be launching Iconic Final Fantasy VII collectibles in 2023.
The biggest video game developer will drop exclusive NFTs usingEnjin, a Layer 2 solution on top of the Polkadot blockchain. NFTs will be paired with physical trading cards and toys. This is not a company that is experimenting with blockchain, this is the developer that is all in on having a blockchain future,investing more than any other gaming company in the blockchain gaming scene.
⚡️ Nickelodeon dropped their first NFTs that sold out in36 minutes. 
Nickelodeon's pilot collection featured characters from Rugrats and Hey Arnold! The company collaborated with Recur, which does all the work behind the scenes. The event went completely buzzy and was acknowledged to be amongOpenSea's top 1,000 best-selling collections of all time. But, Nickelodeon promises that this was only the beginning, so if you feel nostalgic, wait for what comes next 😉
⚡️ The Wharton Business School will throw a course regarding metaverse. 
The online six-week course titled 'Business in the Metaverse Economy' seeks to educate students on metaverse business practices. It will serve for a better understanding of opportunities metaverse provides for businesses out there and help accelerate the mass adoption pace. Top business school out of the University of Pennsylvania claims to be the first and only Ivy League institution to offer a course like this.  
How NFTs Make the World a Better Place
⚡️ The Nelson Mandela Foundation is preparing to launch NFTs in cooperation with Glorious.
To honor South Africa's fighter for democracy, the organization intends to digitalize artifacts related to Mandela so his legacy will live on. If blockchain helps to do things like this, this planet is far from being hopeless 🙏
That is it for today! Bear with us to see what comes next. See you in two weeks to discuss the latest bullish NFT & Web3 news!  
Meanwhile, follow Noft Games onTwitter andDiscord - we've got a lot cooking within our game right now! 
tag
NFT
NFTs
GameFi
Collectibles
News
Blockchain
Cryptocurrency
Game
MetaMask
SquareEnix
Ethereum
Solana
Polkadot
Binance