By Tatiana on September 12
4 min read
NOFT NFT NEWS 9/12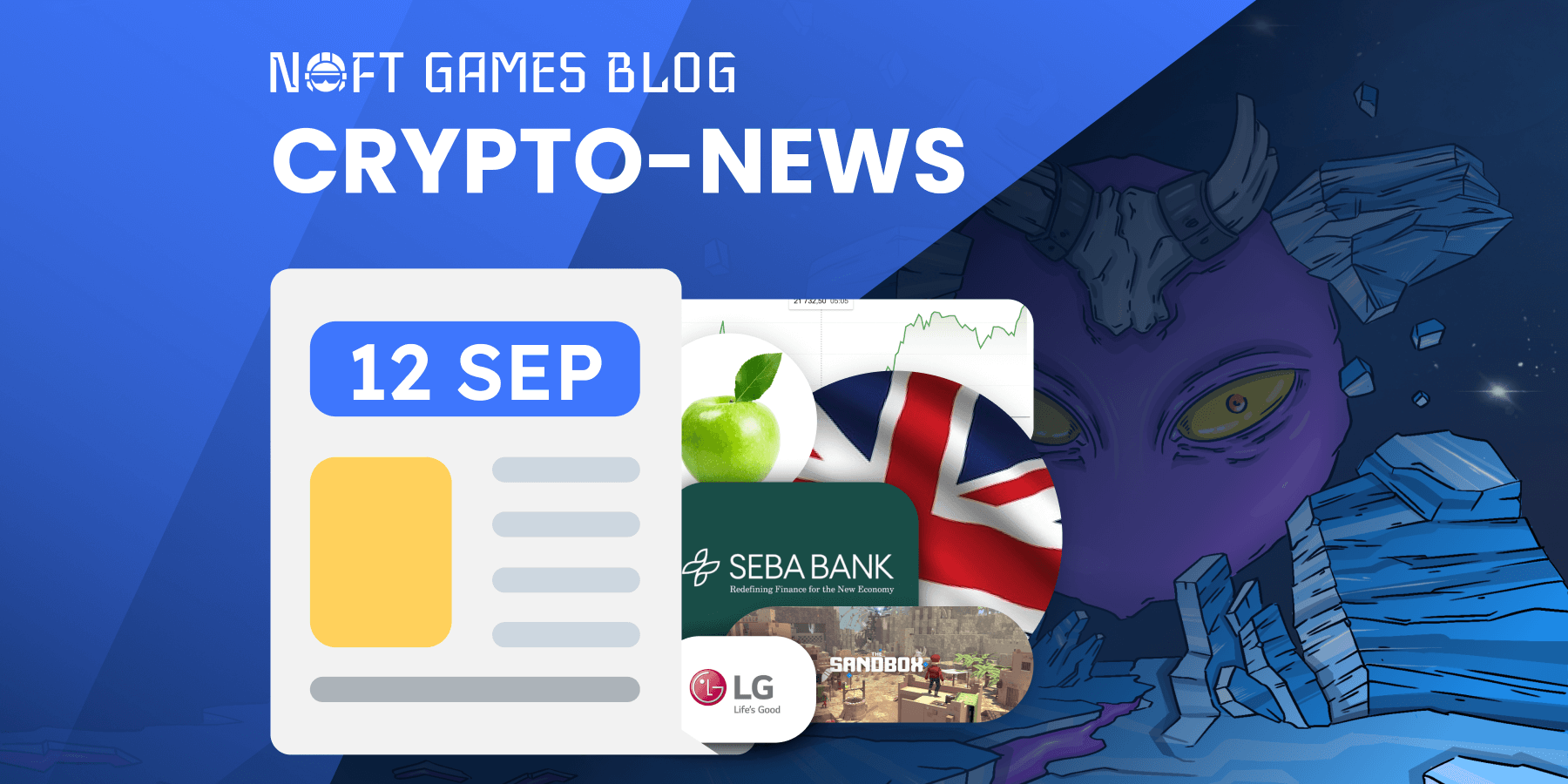 Ethereum to hit $3k; the new trend in crypto; Bitcoin, MANA, AXS, and ApeCoin rising in price; Revolving Games start developing Web3 games, and more.
Great start of the week to you, Nofters! Noft Games are as always here to update you on the bullish crypto news of the past two weeks. Things are heating up in the crypto space!
Breaking News
⚡️ Bitcoin recovers.
After seeing the dip of $18,702, Bitcoin finally surpasses $22,000. However, experts are not expecting it to go higher, and even the new low can be looming. Still, we're back to "normal" so far. 
⚡️ Merge is almost here. ETH to moon to $3,000?
While everybody is watching out for Merge updates, Vitalik Buterin tweets, and sets in stone: "The merge is still expected to happen around Sep 13-15". So, after 15 September 2022, Ethereum will never be the same. Arthur Hayes, the founder of BitMex, predicts that the ETH price will surge up to $3,000 in case of a successful update. 
⚡️ Merriam-Webster Dictionary acknowledges crypto. 
One of the most respected US dictionariesadds 'Metaverse' and 'Altcoin' to its lexicon. 
⚡️ Metaverse tokensstarted surging in price.
Following Bitcoin's optimistic price pattern, Gaming and Metaverse tokens also show good stats! According to CoinMarketCap, FLOW went 59% in a week, Axie Infinity's AXS price increased from $12 to $15 in 7 days. ApeCoin showed +12% a day, SAND is now traded at almost $1, MANA is also headed to hit $1 for the first time since the beginning of August. 
Just as we assumed! Hope you followed our latest guide on coins with the good potential to grow and stocked up some gaming tokens by now 😉 Follow our blog for more!
Newest Crypto Trends
⭐️ New use case for crypto.
A lot of crypto-related projects have been getting hacked lately. Considering that, Europol announced plans to use blockchain to track the cyber criminals down and recover stolen crypto funds. That sounds like huge changes coming! 
⭐️ Web3 domain names is a new trend in NFT.
Forbes reports that services like ENS and Unstoppable Domain are seeing immense growth in popularity among the crypto community right now. In the last few months, sales of these two companies increased by up to 500%.  
World Governments x Crypto Adoption
⭐️ Bank in Switzerland will launch ETH staking. 
SEBA bank becomes the first physical bank to allow customers to stake their Ethereum in the system. One more factor for ETH to go up soon! 
⭐️ Great Britain to welcome crypto. 
Liz Truss, the UK's new Prime Minister, was repeatedly noticed sharing pro-crypto statements in the past. As soon as she entered the office, the UK government declared they aim to make the country "the dominant global hub for crypto technologies". 
⭐️ Indonesia plans to encourage crypto trading. 
The Indonesian authorities announced they will establish a platform for cryptocurrency trading before the end of this year.
Crypto Scam Alert
⚡️ A popular DeFi researcher, @FatManTerra, came up with a fake investment scheme as part of an experiment and raised over $100,000 in Bitcoin in a few hours. FatManTerra claims to have returned all the money to users. 
⚡️ But who was not going to return the money is real scammers who organized a fake Apple live stream. Fortunately, YouTube managed to block the video in time. So be extremely careful out there!
Flash NFT & Gaming News
⭐️ The mobile game publisher Revolving Gamesraised funds to start developing Web3 games. 
⭐️ LG Electronics launches their new NFT Marketplace 'LG Art Labs'.
⭐️ Sandbox partners with Renault Korea Motors to offer a new metaverse driving experience. 
⭐️ Chicago Bulls basketball club onboarded all-star artists to launch an NFT collection on Coinbase by the end of September. 
⭐️ Bored Ape #11 officially hosted the DJ set at E11even Club in Miami.  
Feel free to share your thoughts on this latest crypto news digest. Stay tuned to our blog to be all updated and prepared for the next bull run! 
tag
Bitcoin
Cryptocurrency
Ethereum
Metaverse
Merge
Sandbox
Crypto Scams