By Viara on September 27
4 min read
NOFT NFT NEWS 9/26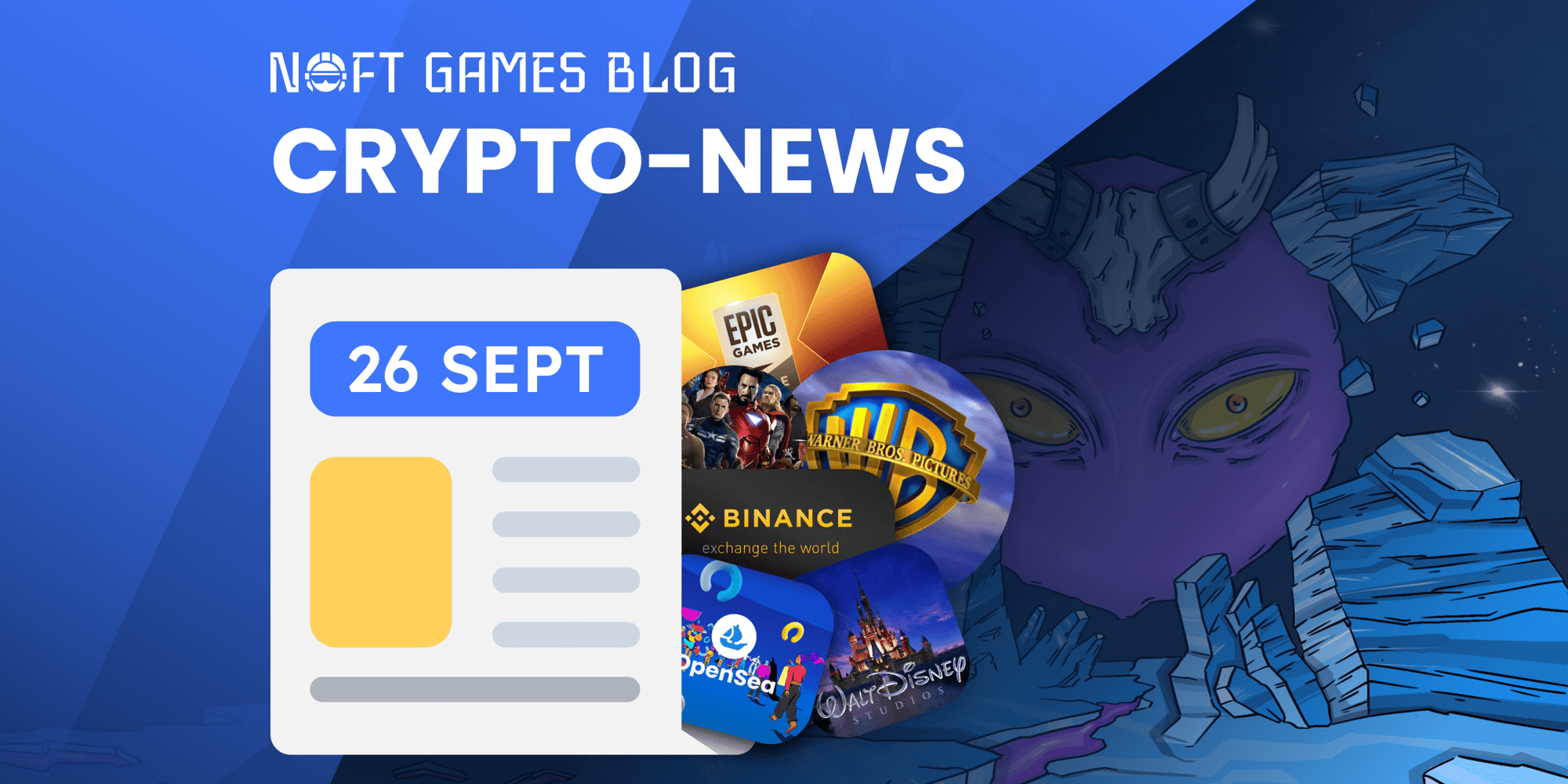 #BinanceAtTheBurj,  DC Funko Digital Pop! coming, Helium vs Solana, #NFTDay is now official, Epic games welcome NFT games, and more!
So much happened in the NFT and blockchain world in the past two weeks! Your favorite game to earn crypto, Noft Games, as always, is sharing a recap of major cryptocurrency news for mid-September. 
🎉 September 20, 2022, marked itself as the First Official International #NFTDay.
How cool is that? Five years ago that day, the ERC-721 protocol was born. There were live events hosted by Dapper Labs in 15 cities across the globe, including Paris, Tokyo, and Chicago.  So grab your fellow NFT-lovers next year and join the movement!  NoftGames celebrated the event with 5k followers - our small proud family 💙 
Bullish on NFT 
⭐️ Epic Games, the creators of Fortnite, just added the first Web3-powered game to their Store. 
Blankos Block Party becomes the first ever NFT game to launch there, and it seems that is only the beginning. The respective Giveaway is live right now! 
⭐️ Nostalgia alert!Hasbro is relaunching Starting Lineup NBA-themed figures coupled with NFT cards. 
The collection features Stephen Curry, LeBron James, and six more NBA stars. The community is over the moon with nice and detailed figures, yet, wondering where all the tattoos had gone 😀 The pre-order is already live, asking $50 for each figure. Plus NFT, of course. 
⭐️ Collectible brand Funko and Warner Bros. join forces to release the DC NFT collectibles.
And even more, every physical Funko Pop! will be paired with NFT and sold at Walmart starting October 7, 2022. The collection will have 30k pieces featuring iconic DC figures. DC + NFT = isn't that what we've been waiting for? 
Level Up 
⭐️ While the crypto community is still in the midst of the Merge Hangover, Cardano Vasil Hard fork kicks off. 
The extensive update happened on September 22. The fork will lower transaction fees and increase their speed. Quick prediction? That move might have a positive impact on Cardano and its ADA token as the network turned to be more developer-friendly. It may bring more dApps under Cardano hood. So, go ADA! 
⭐️ Helium brings the first crypto cellular to the world. 
Solana has recently announced they're building the Web3 mobile phone. Now, Helium's countermove would be HeliumMobile. Nova Labs partnered with TMobile to provide a 5G mobile phone carrier solution for as low as $5 a month. Wow, we can't yet imagine how far that decentralized technology can go.  
⭐️  Binance celebrated the licensing in Dubai with the massive light show on Burj Khalifa.
By getting the MVP license, Binance is now allowed to offer services to investors through local banks, positioning itself as a leading Web3 services provider in the UAE. 
Gaming & Metaverse go Bullish
⚡️ Despite bearish sentiments flooding the crypto market, gaming and metaverse tokens blow up the space. As Decrypt informs, GODS and APE are among the ones showing strong weekly gains.
⚡️ OpenSea announced it is integrating an OpenRarity protocol to the platform to calculate the rarity of each NFT presented there. Making it now easier for you to hunt and grab new gems.
⚡️ NFL All Dayis now a top-selling NFT collection, beating the Bored Ape Yacht Club. 
Earlier, we dropped an article on the Best Coins to buy in Autumn of 2022, including some more NFL digital collectible releases. So stay tuned to our blog and Twitter, and never miss a thing!  
New Vision
⭐️The next "Disney" or "Marvel" is being built on blockchain as we speak, Solana Labs Co-founder Anatoly Yakovenko declared in an interview for Decrypt.
"<NFT> is, I think, the best place to zero-to-one a brand, or a new story, or new lore for whatever—games, movies, IP, franchises, whatever you want", he said. NFT, as a new mighty technology, has all the potential to live up to that forecast, don't you think?
⭐️ Binance CEO Changpeng "CZ" Zhao doesn't see any bad in the current bearish trend. 
"Price corrections are actually good," CZ stated to Messari CEO Ryan Selkis during their interview. 
According to CZ, the crypto market's greatest win is its worldwide adoption happening now, with a mass of dApps and projects offering tremendous utility to people.Well, we can't agree more after witnessing all the bullish news we reviewed today! 
Watch our Noft Games space for more gamefi, crypto, metaverse coins news and our best play-to-earn crypto game announcements! 
tag
News
Ethereum
Solana
Binance
Metaverse
NFT Market
Merge