By Noft Games on December 27
6 min read
The Year In Crypto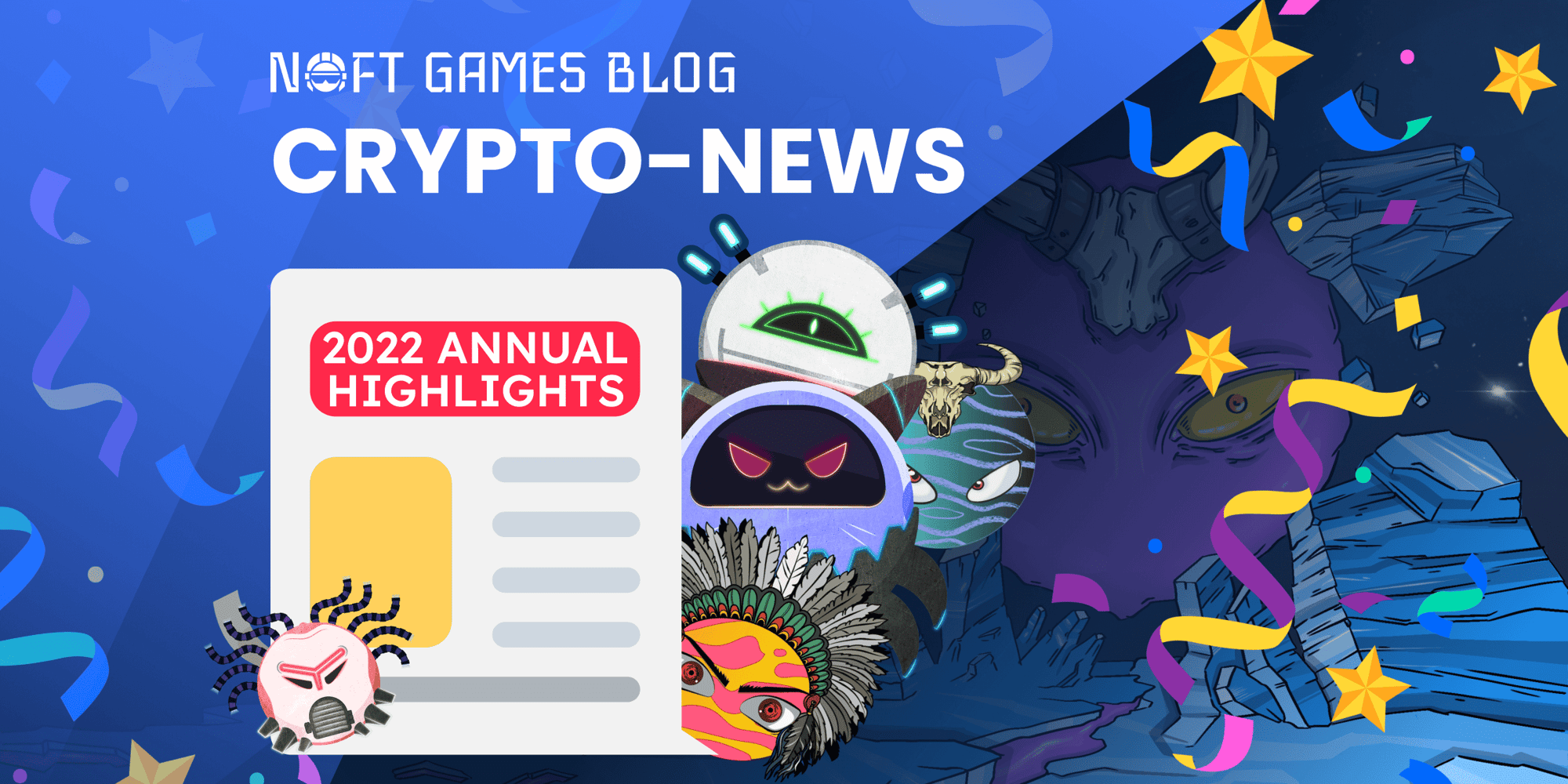 8 lessons of 2022
Hey, survivors! What a year, huh? One year wiser, important lessons learned. Let's look back and reflect on the eight key moments in crypto of 2022 that influenced the space the most together with the Noft Games team. 
1️⃣ Canada vs. Crypto
The beginning of 2022 headlines were all about Canada's violation of crypto decentralization. In February, the group of trackers, dubbing themselves the "Freedom Convoy," rushed out to the streets protesting against mandatory Covid-19 vaccination. This is where Canadian Prime Minister Justin Trudeau invoked the Emergency Act of 1988, which gives the government powers to freeze the personal accounts of anyone partaking in demonstrations. The activity turned out to be partially funded by Bitcoin. 
Authorities immediately attempted to freeze trucker-related accounts including crypto wallets, yet, Bitcoin addresses kept functioning just fine. Well, because no one can ban blockchain. 
2️⃣ Terra Luna Collapse Domino Effect 
In May, the algorithmic stablecoin UST de-pegged from the dollar, and its sister coin LUNA also crashed, bringing down the $40b dollar Terra Luna ecosystem to shambles and creating a $300b loss in the overall crypto industry 
Loss of confidence in algorithmic stablecoins and crypto, in general, was not the only outcome though. 
Terraform Labs' fiasco in providing sustainability to its algorithm activated the chain reaction. Shortly after the incident, the Celsius DeFi platform failed to protect user funds, froze the asset withdrawals, eventually declaring Chapter 11 bankruptcy in July
The same month, crypto lender Three Arrows Capital, the top player in the industry with investments in top projects such as Avalanche, BlockFi, Solana, and connected to Celsius, also drowned. 3AC failed to pay loans back to investors, including Voyager Digital, which also filed for bankruptcy caused by its exposure to Terra through Three Arrows. 
Recently, Chainalysis analytics named the Terra crash the biggest crypto defeat of the year while FTX bankruptcy stands nowhere near. 
3️⃣ Biggest Crypto Usecase
Crypto becomes the only aid for those in need. Ukraine, currently in a state of war, accepted around $100 million worth of donations in crypto to help keep the country going through the disaster. 
4️⃣ Ethereum Merge
2022 wasn't all painted in black. Ethereum's long-awaited September upgrade, aka. Merge, caused visible euphoria in the crypto community. The second-largest blockchain's transition from energy-intensive mining to a Proof-of-Stake consensus mechanism became the first giant leap toward Ethereum 2.0 and promises more to come. 
In 2023, the team is planning to initiate the sharding upgrade, making so much anticipated lower fees and faster transaction processing possible and closer than ever.   
A large chunk of DeFi is built around the Ethereum chain. Following the upgrade, Ethereum Layer-2s including Immutable X, Optimism, and Arbitrum acquired technology scaling benefits and took off to a new level.  
More to this, Ethereum NFTs are now relieved of the criticism for using a non-eco-friendly blockchain. Plus, with boosted efficiency Ethereum-based gaming gains accelerated performance.  
And of course, Vitalik Buterin & the team's dance and rap performance during the Ethereum 2.0 celebration event takes a special place in our hearts 💙. 
5️⃣ #Hacktober 
October 2022, so far, is considered the month of the most hacker activities in crypto. During that month alone, hackers exploited 53 DeFi protocols' loopholes to pocket around $760m in user funds, a portion of which is already returned. 
Specifically, October 11 appeared to be the spookiest day, with 4 chains synchronously "robbed." Over $100 million was reportedly wiped off Rabby Wallet, Mango Markets exchange, Temple DAO Stax, and allegedly ParaSwap. 
With that, we're closing the year with unsettling numbers - hackers outperformed this year, draining $3 billion from the crypto market.
6️⃣ FTX Collapse
You already heard a lot about the FTX empire fall, unless you live under a rock. Apparently, the incident found the world's ex-second-largest crypto exchange in irresponsible hands. Not only the abuse of centralized power by the FTX boss and lacking transparency led to users losing their locked funds, but pressured the entire ecosystem. The long-term effect is yet to be seen.
Eventually, U.S. authorities raised debates over introducing a regulatory framework for cryptocurrency firms to prevent similar cases henceforth. Meanwhile, users learned a painful lesson — self-custody is pivotal. Unless you hold your own keys, ideally in cold storage, you're not truly in charge of your funds 
FTX is dead — the fact — does it mean the crypto is dead? The short answer is No. Just like Google and Microsoft made it out of the internet technology establishment stage in the early 90s while many failed, only the strongest will survive this crypto winter. 
7️⃣Bitcoin is getting legally acknowledged
Since the FTX disaster, politics all over the world have been urging governments to define the legal status of cryptocurrencies and especially trading platforms. 
European Union is elaborating comprehensive legislation on digital assets, crypto wallets, and exchanges; France is considering tightening crypto companies licensing; Indonesia works on a locally regulated crypto trading platform. 
More than that, the current centralized finance disaster accelerated the rates of cryptocurrency adoption worldwide and, most importantly, at government levels. 
Brazil and Costa Rica made cryptocurrencies subject to national law, Great Britain's Parliament passed a legal framework for digital assets, US Federal Reserve Bank is working on a digital dollar. And somehow it seems only the beginning of strides towards regulating this sphere.  
8️⃣ NFTs Stay Strong 
Non-fungible assets did not remain unscathed and suffer significant 90% price depreciation. Yet, it's not the end. This year we witnessed how NFTs are breaking out from being just jpegs to finding utility in music, sports, P2E games, video gaming in general, and the metaverse. 
The NFT gaming future seems even brighter. According to Metaverse Post, Web3 gaming projects raised over $550 million in funding in October and November only, making it an $83 billion inflow of investment into NFT-related companies within a year.
As we see, gaming projects keep building behind the scenes, and so do we, relying on 2023 will be kinder to the crypto industry. 
Future Of Cryptocurrency 2023
Digital assets as well as most asset classes experienced a significant drawdown this year. The total crypto market cap dropped from $2.2 trillion in January to $800 billion in December. BTC is down 64%, ETH has lost 60% of its value. 
Portfolios may be down 70%, and the market is bloody red, but zooming out for the bigger picture is the key to sanity. There are cracks in the crypto sphere, but this year set the stage for improving what's wrong and starting the next bull run in better and stronger shape. 
tag
Bitcoin
News
Blockchain
Cryptocurrency
NFT Market
Merge
Crypto Scams
Crypto Adoption
FTX
cryptowinter