By Noft Games on April 20
3 min read
Trending Types of NFTs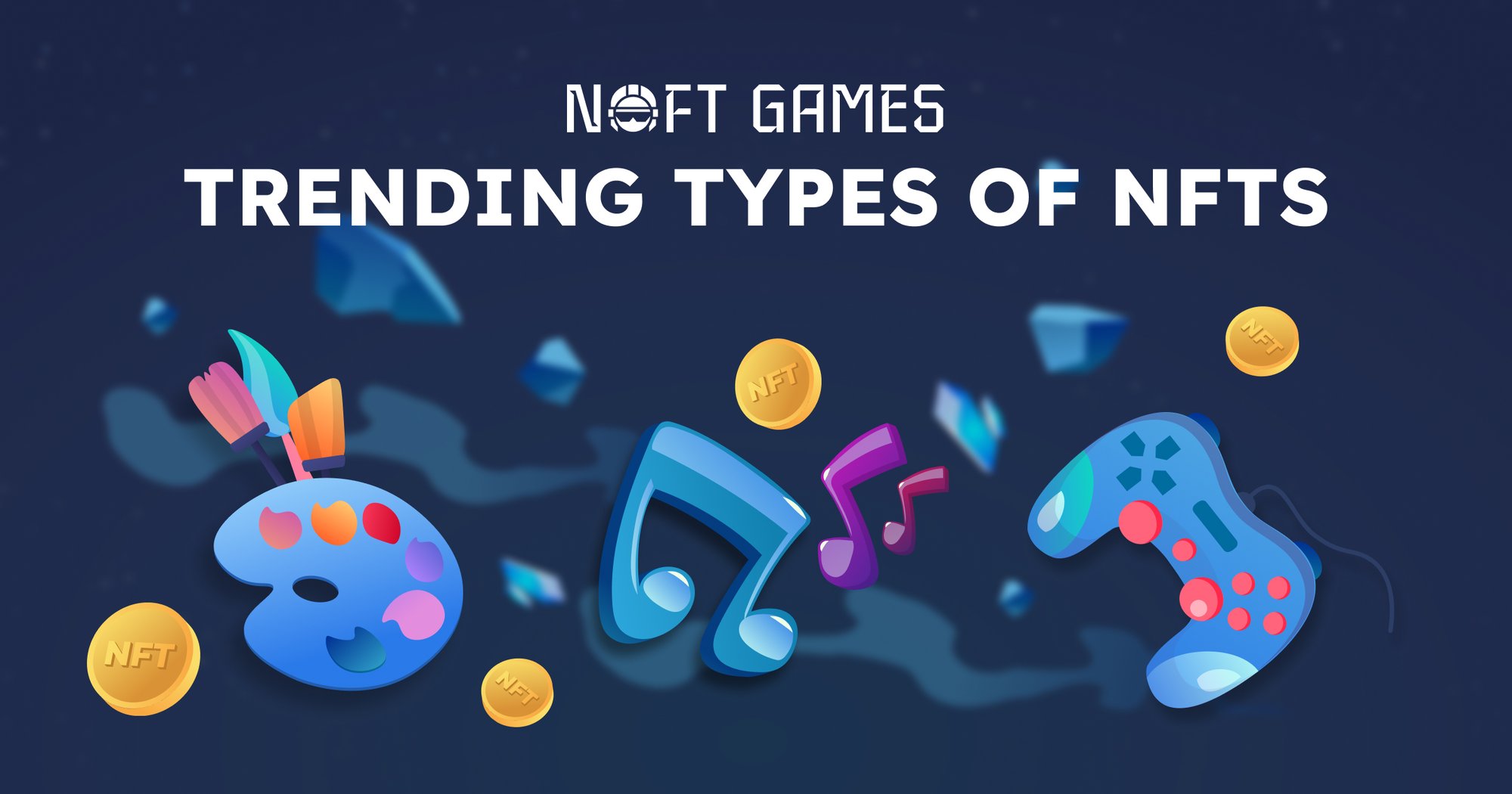 Type of NFTs Collections
NFTs have become the hottest topic of the early 2020s. They are used in business by large corporations, and at the same time any schoolboy can make his own NFT. There are single NFTs worth tens of millions of dollars and tens of millions of NFTs worth nothing. And then there are NFTs bundled into collections and widely used in games.
NFTs are digital assets based on metadata. This metadata is tied to a blockchain, which ensures that the data is permanent and cannot be changed.
Any digital information can be turned into an NFT. For example, a graphic image, an audio or video file, or an e-book can get NFT functionality. In the following, we describe how individual NFTs are made into collections.
NFT art collections
NFT collections are sets of digital assets united by some common attribute. This common feature can be the artist's name, the general orientation or the purpose of the project. NFT art collections are widely represented. They can be purchased both on individual artist websites and on specialized marketplaces. The price of NFT art, like any other piece of art, is determined by supply and demand. It ranges from a few dollars to several tens of millions of dollars for a single work. There are among the artistic NFT and objects that are tied to AR and VR technology. Thus, the owner of the NFT can admire his acquisition not only on the screen but also in virtual space.
NFT music collections
Increasingly, NFTs are also being offered in the form of music and audio files. Sets of such files form NFT music and audio collections. It is not uncommon for musicians themselves to sell their music as digital assets. A video clip can also be sold in this form, for example, with a rare and valuable recording for fans. NFTs are also increasingly being used in games - both mobile and PC games.
NFT game collections
NFT parameters don't have to be static. An NFT object's metadata can change - but not randomly, strictly according to the algorithm. This opens up opportunities for the Play-to-earn industry to emerge and grow. NFT used in games allow to earn cryptocurrency. If, in addition to the possibility of earning, the game component itself is thought out, then such a game collection will provide a great opportunity - to play and earn cryptocurrency at the same time.
The purchase of NFT from the game collection will be especially profitable at an early stage of game development. It's also important that the game has well thought-out mechanics and Gameplay, as well as an active and friendly community of players. Nofts World meets all of these requirements.
You don't just buy NFT with the expectation of its further price growth, but you get the game asset, with which you can earn BNB and other sought-after cryptocurrencies.
We invite you to start exploring the world of NFT
We invite you to start exploring the interesting world of NFT with us! The best way to do that is to dive into the world of Nofts with NFTs.
Nofts are small warlike creatures, each of which can be acquired, stored and transferred as NFTs. Their habitat is deep space, and their raison d'être is combat.
And in the Noft Games there is an opportunity to participate solo or multiplayer, to fight in the arena for impressive cash prizes in BNB, as well as to develop your character without the need for monetary investment. Noft Games has a large community that is constantly growing. To learn more about Nofts and its development prospects, join our social networks Discord and Twitter.
Links