By Noft Games on February 09
5 min read
What Will Happen to Bitcoin in 2023?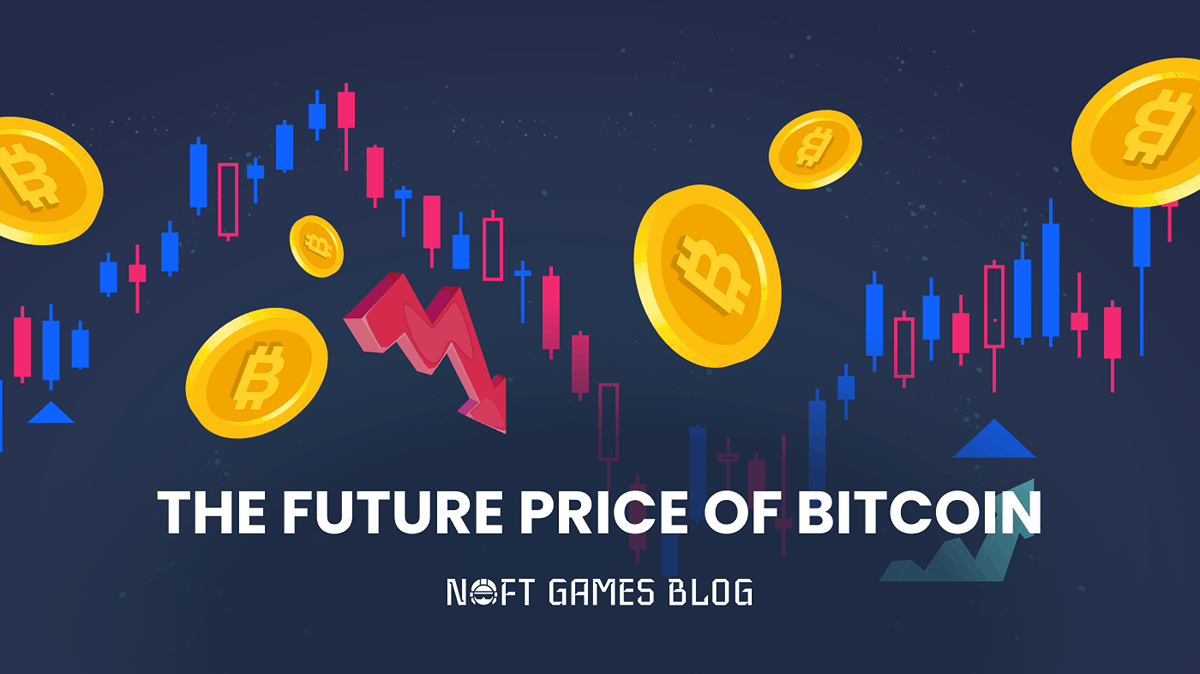 What will happen to Bitcoin in 2023?
All eyes of the crypto market now are on Bitcoin. When will BTC prices spike up again? Is the bull run starting?  Are there any signs the bull market kicks in anytime soon?
So far, the Granddad of all altcoins is doing good since the 2022 catastrophic breakdown, sitting slightly below $25,000. But what 2023 has in store for Bitcoin? 
NoftGames to analyze all the possible sources and compiled predictions for Bitcoin for the current year and a few years ahead. Stay tuned for the boldest and most bearish forecasts! 
Bitcoin Price Today
At the time of writing, BTC is traded at around $22,700, which is a significant break out of October-November 2022 prices and still a 66% loss from its all-time high. The current market cap is $438 million and $29 million is the daily trading volume.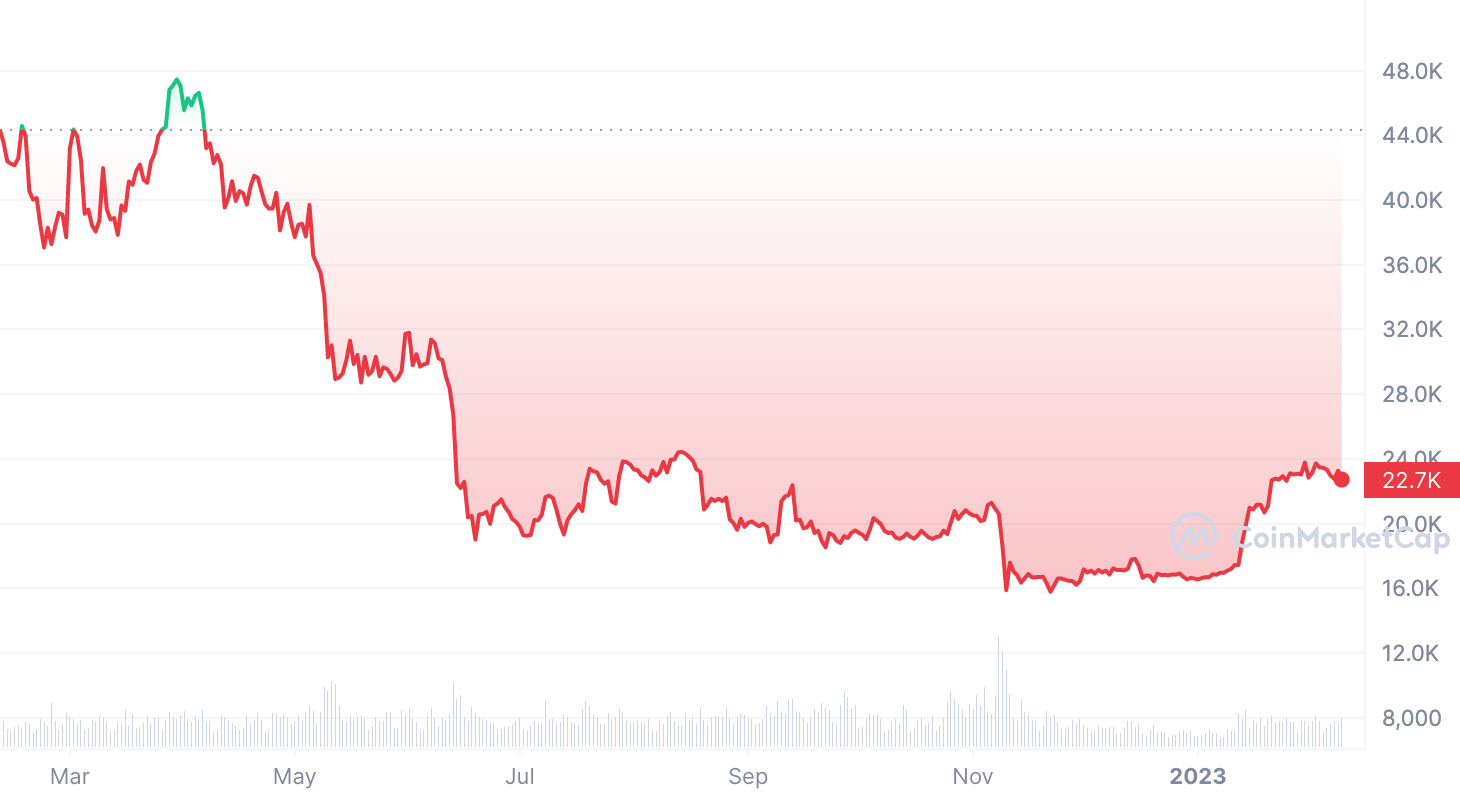 Bitcoin 1-Year Chart, Source: CoinMarketCap 
Since January 13, 2023, Bitcoin has been showing daily consistent upward movement, making us believe it's a start of a new bull rally. But let's dive deeper into this and check if it really is.   
What will BTC be worth in 2023?
BTC Price in February 2023
Looking at Bitcoin price from a short-term perspective, the healthy price corrections are here to stay for February but to only signalize the potential upward movement for the upcoming months. Here are various scenarios suggested by industry experts.    
📌 The trader CoinsKid expects the BTC price correction to bring us to the $22,154 price point. Yet, he also notes that if the BTC manages to break above $23,942, then further up movement is almost inevitable.
📌According to BeInCrypto prediction, before going any higher Bitcoin is likely to hit 19.9k at the lowest, followed by a bounce all the way up to $26,000 in February. However, if it falls as low as 18.4k, the downward action towards 16k is predicted by the experts.   
📌Twitter Analyst @TraderXO also has similar projections, where Bitcoin may go lower down to 20.4k USD provided it falls back to $22,655.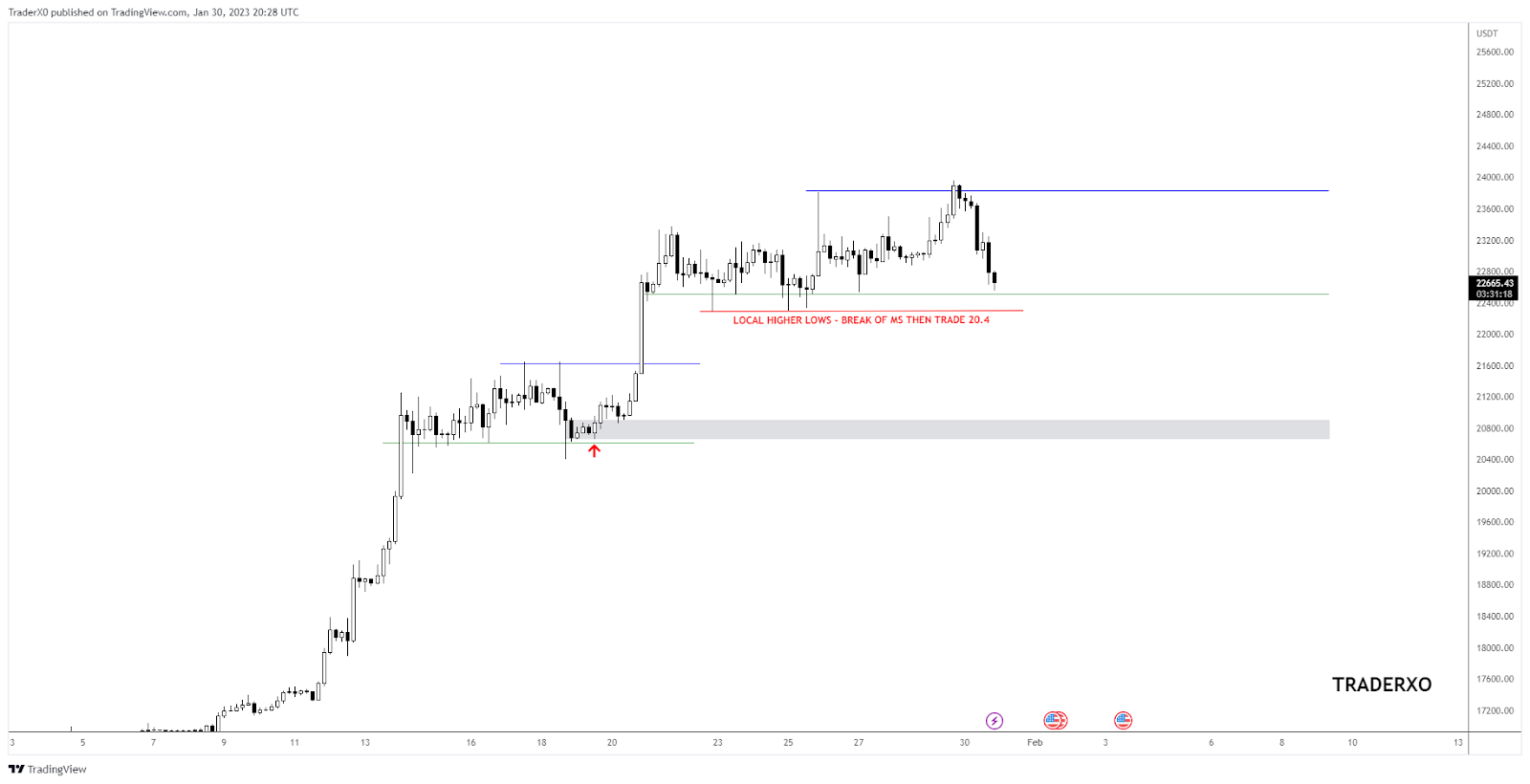 Source: @TraderXO via Twitter
4 Predictions from Experts for Bitcoin in 2023 + AI Forecast
📌 Business2Community report predicts a BTC bull run start by the end of the year, where prices break above Bitcoin's all-time high and reach $75,000 per coin. 
The uptrend, according to experts, will be triggered by Bitcoin's potential to be treated as a haven during inflation where it will grow in value whichever scenario the macro-economic space shows for the year ahead. 
📌 CryptoTimes analytics also bet on the growing Bitcoin adoption rates that can boost the price of BTC in the second half of 2023, which will signify the price recovery according to the prediction. Crypto Times Technical analysts suggest that BTC closes the year somewhere in the $40-50,000 range.   
📌 As for more detailed price action, the long-time investor Titan of Crypto seconds the expert's point indicating that BTC will be valued at $42,300 in May 2023.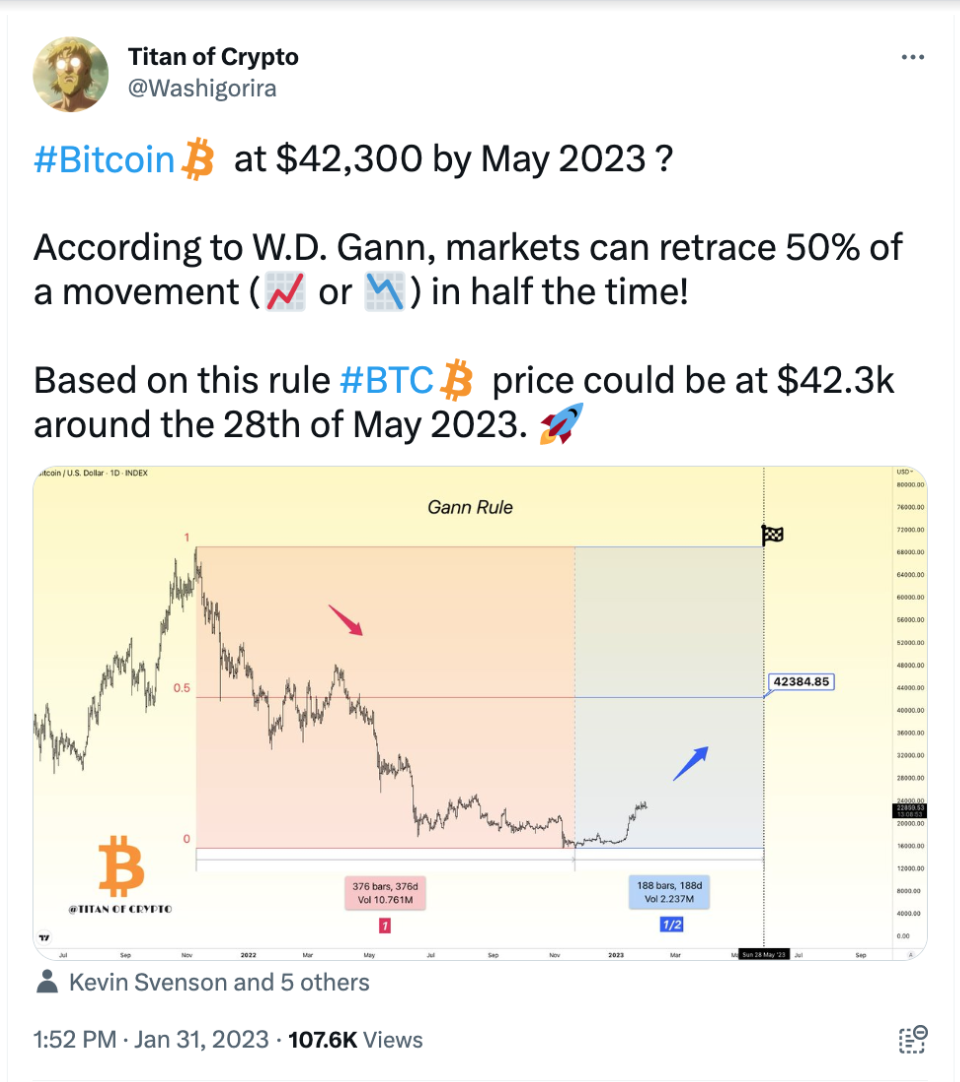 Source: @Washigorira via Twitter
📌A more careful prognosis by CoinPedia shows that in 2023 the price of BTC will fluctuate between $23,200-34,400. 
📌 Of course, somebody had to ask ChatGPT about the future Bitcoin Price! After carefully analyzing the available data and charts, as the GPT chatbot claims, it easily spills that Bitcoin will cost 50-100k by the year's end. 
Where is the Bitcoin Bottom in 2023?
For the first half of the year, various analysts indicate that Bitcoin will once in a while visit lows at the 16k to 22k range, so another dip at $19,000 or even $16,000 is a possible scenario, but only to bring new highs afterward.   
What will influence the BTC value in 2023?
🔍Hedge against inflation 
Crypto users show support for Bitcoin as it propagates the freedom of money at its best. Once people start to realize that more vividly, Bitcoin may see an inflow of investment and continue the bullish trajectory.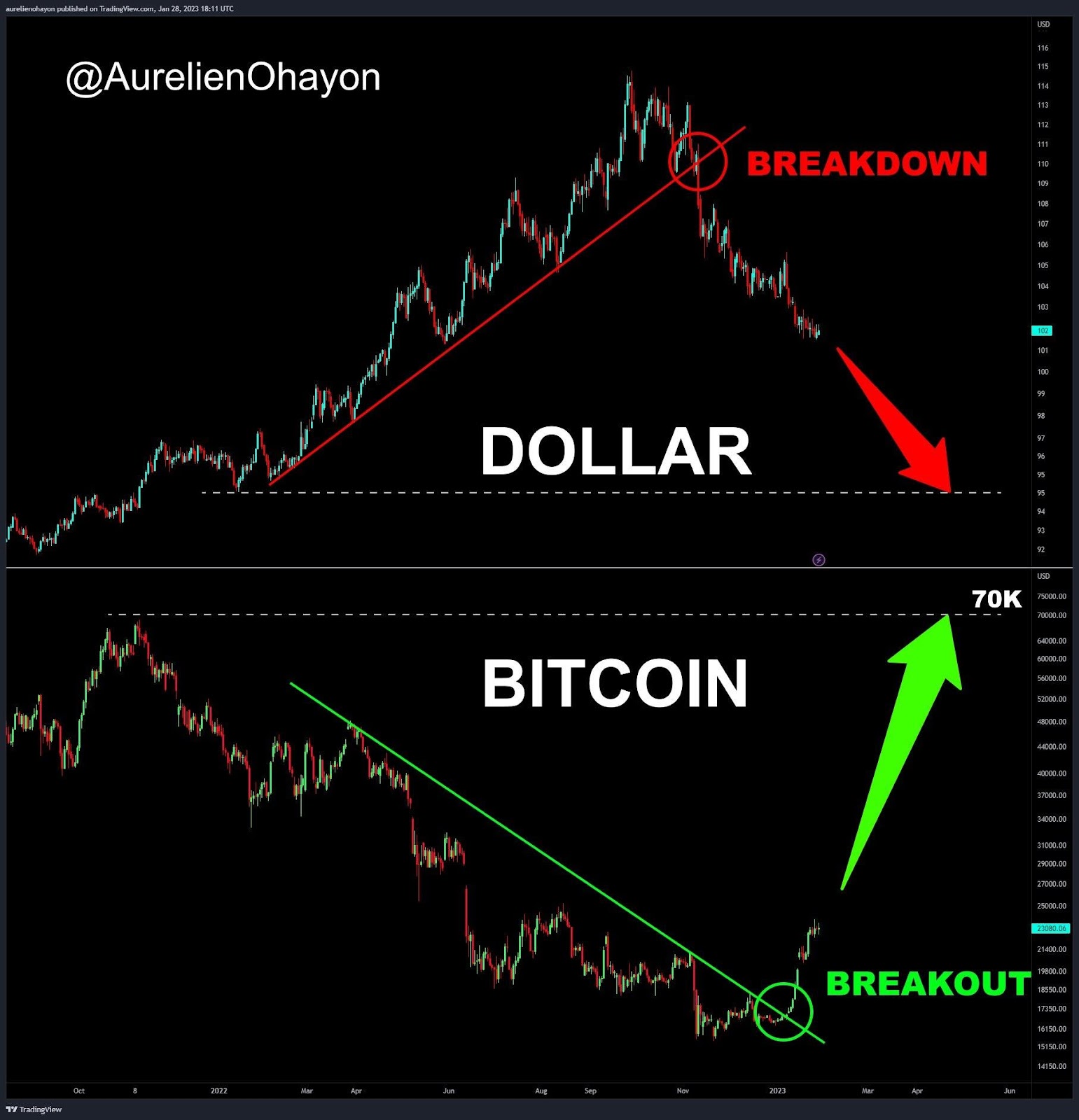 Source: @AurrelenOhayon via Twitter
🔍 Adoption
As it was mentioned in our latest news digest, SEC has declined the proposal to regulate the Bitcoin ETFs. If the plan eventually works out, more investors will be involved in BTC trading, making it a highly demanded asset in the market.  
🔍 Bitcoin Halving 2024
Throughout the whole Bitcoin price history, one year prior to the event known as Bitcoin Halving, the BTC price reacted positively.  This year brings us very close to halving, leaving us with bullish sentiments.   
Source: Twitter
The Future of Bitcoin
Bitcoin Price Prediction 2024-2025
Long-term cryptocurrency predictions are non other than speculations and dream visions. Yet, let us fathom and look a little ahead to 2023 to see what may happen with Bitcoin in the more distant future. 
📈Some analysts believe that in 2025 BTC price will hit the desired 100,000 USD provided the SEC eventually legalizes the Bitcoin ETFs so the coin will be available to institutional traders and gets more traction.
📈PricePredictionsplatform sticks to uptrend projections as it shows that BTC will be worth $49,000 minimum in 2024 and will say hello to $72,000 in 2025. 
📈Ark Invest and its founder Cathie Wood are well-known in the space due to an overly bullish perception of Bitcoin value. The year 2030 is no exception. The investment firm predicts that BTC will be worth not less than $258m and even will have the potential to reach $1 million for a single BTC coin. Bolder than it could be, yet we will not complain if it happens!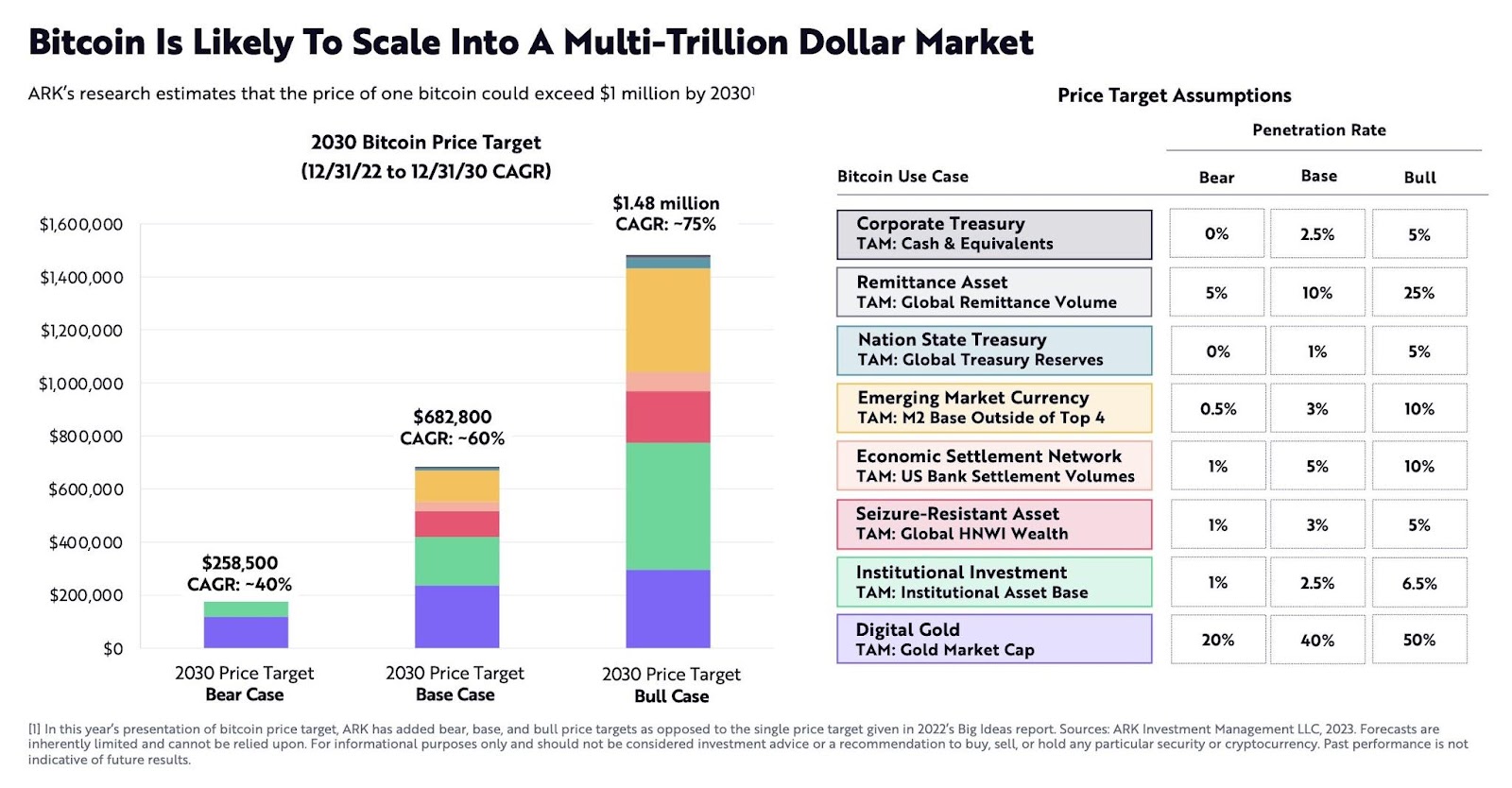 Source: Ark-Invest.com
Will Bitcoin Go Up in 2023?
As we reviewed today, there are many signs that Bitcoin will eventually go up in 2023, but not without dips and corrections. The upcoming halving event in 2024, however, leaves the majority of experts positive about the possibility of a Bitcoin bull run start this year, which will carry the whole crypto market to new highs. 
However, please note that cryptocurrency price predictions are a quite slimy ground for investors to base their trading decisions on. We urge you to do your own careful research before deciding to embark on any crypto investment journey. 
tag
Bitcoin
price prediction
crypto market in 2023